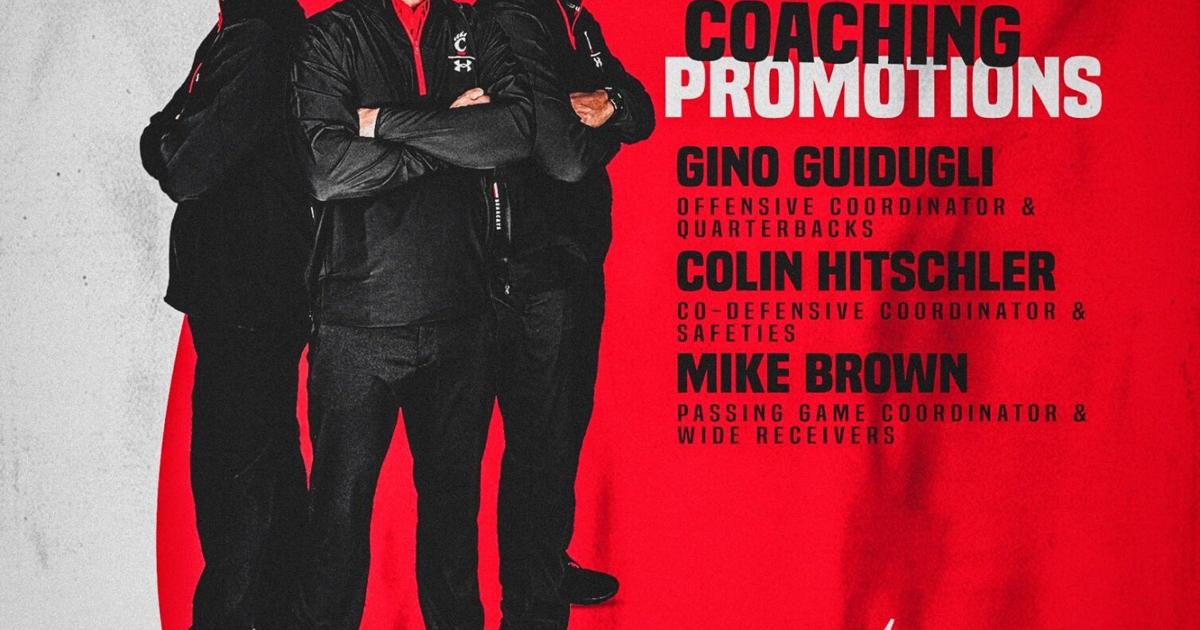 UC football welcomes new faces to the coaching staff | Sports
Over the past few weeks, Cincinnati Bearcat football has mixed the cards when it comes to coaching, with five coaching changes since their College Football Playoff Semifinals appearance.
Former quarterbacks coach Gino Guidugli has been promoted to offensive coordinator (OC). The move comes after former Bearcat OC Mike Denbrock won the same title at Louisiana State University (LSU). Guidugli has been on the Cincinnati coaching staff since 2017, having played for the Reds and Blacks from 2001 to 2004.
Guidugli's playing career at Clifton was nothing short of successful, as he set the all-time touchdown record (78), a record recently broken by his star player, Desmond Ridder.
Due to Guidigli's move to OC, the Passing Game Coordinator role was quickly vacated until wide receivers coach Mike Brown was promoted to the role. Brown will continue to coach wide receivers, but has expanded his responsibilities to include passing game coordinator.
"I am extremely pleased to announce the promotion of Mike Brown to Passing Game Coordinator," Fickell said. "Mike has done a terrific job for us since coming here, taking our expansive hospitality venue to the next level. As a former NFL player, Mike knows what it takes to be successful at the highest level. C "He is an outstanding teacher of the game and an excellent recruiter. He has been instrumental in our success over the past three seasons and will continue to play a major role in our growth as a program.
Brown was a two-time All-American in college before joining the National Football League (NFL), followed by a coaching career beginning in 2016. Brown joined the Cincinnati staff in 2019 and worked with wide receivers since. One of Brown's top stars in Cincinnati, Alec Pierce, will likely hear his name called during this year's NFL Draft.
On the defensive side of the ball, safety coach Colin Hitschler has added the defensive co-coordinator (DC) to his list of responsibilities. Hitschler has been with the program for four seasons and, after entering his fifth, is entering his third as Bearcats assistant coach.
"[Hitschler] has done an outstanding job as a safety coach for the past two seasons and has been a vital part of our defensive staff for the past four years," Fickell said. "He's a great coach who really cares about his players on and off the pitch. He deserved this opportunity and I think he will continue to do a great job for us.
Hitschler has developed two safeties with American Athletic Conference (AAC) first-team honors over the past two seasons, James Wiggins and Bryan Cook.
Former Bearcat football star Walter Stewart has been hired as the new Bearcats linebackers coach for the 2022 season. Stewart played as a defensive lineman from 2009 to 2012 for the Bearcats. He already has AAC coaching experience, having been with Temple as a defensive line coach since 2019.
Further out in the backfield, former Ohio State DC Kerry Coombs was hired to coach the Bearcats cornerbacks and special teams. Coombs has a history with Fickell, who coached together at Ohio State from 2012 to 2016.
Coombs is a native of Colerain, Ohio, and served as defensive backs coach for the Tennessee Titans from 2018-2019.
Coombs' hiring comes after he was relieved of defensive calling duties for the Buckeyes during the 2021 season. The Buckeyes and Coombs agreed to part ways after the 2021 season, paving the way for the veteran coach to join the Bearcats staff.
With so many moves there have been for the Bearcats this offseason, it can be considered a plus that they are happening early in the offseason. The five coaching changes could bolster recruitment going forward as the newly reshuffled staff bring experience and reliability as former Bearcat players.