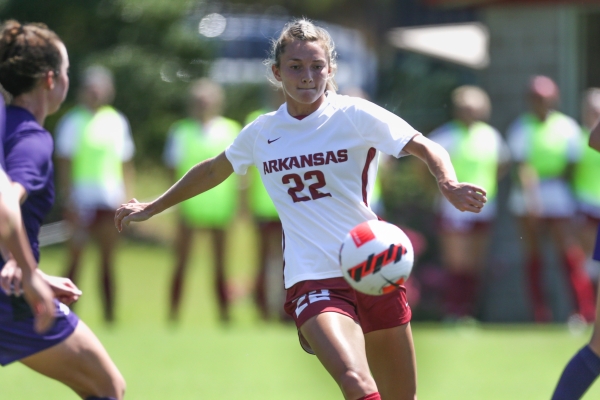 UA Football Wins SEC Playoff Honors
Published: Monday, November 1, 2021
The University of Arkansas women's football team has dominated the SEC this season and won a series of playoff honors, which were announced by the league office on Sunday.
Parker Goins was named SEC Midfielder of the Year and joined teammates Bryana Hunter, Anna Podojil and Taylor Malham in the All-SEC First Team. Hunter was also selected as the league's varsity athlete of the year, while Kayla McKeon was selected for the All-SEC Second Team.
Arkansas coach Colby Hale was happy with the recognition his players have received, but admitted he believes at least one deserving Razorback has been overlooked.
"I'm super happy for these kids," Hale said. "You could say Parker was the best player in the conference this year. She was super deserving. They all were. But there are a few out there that didn't do that I deserved, most notably Haley VanFossen. Sometimes when you have, in my opinion, three of the best defensemen in the league, they start to split the votes.
"Haley VanFossen certainly should have been there. You could argue [Ava] Tankersley and Kylie Dulaney and Emily Hauser, they're just as good as some of the other players who made the league. We are happy for those who have succeeded and we will look to win more games.
VanFossen, a senior from Broken Arrow, Oklahoma, has won first-team All-SEC honors in each of the past three seasons and was a third All-American team in 2019. But has been ruled out that season.
The Arkansas No.4 (14-3) won his third straight SEC regular season title and heads to the SEC tournament in Orange Beach, Alabama as the No.1 seed. The Razorbacks saw their 14-game winning school record stop Thursday at LSU to finish 9-1 in the league and a 24-3-1 combined in the SEC over the past three seasons.
Arkansas secured a first-round pass of the SEC tournament and opens the game against today's winner Georgia-LSU at 5 p.m. Tuesday. The game will be televised on the SEC network.
Goins set the school's all-time points record, scoring his 105th with his goal in Arkansas' 6-1 win over Missouri on Oct. 15. She also has the most assists in program history at 32. Goins has nine goals this season and leads the Razorbacks in assists (8), shots (51) and shots on goal (27).
Hunter leads all Arkansas positioners in minutes with 1441. As a defender, she has scored two goals this season and had one assist. Hunter currently holds a cumulative grade point average of 3.98 as a biochemistry major.
Podojil leads the Razorbacks with 11 goals and 28 points and leads the SEC with an average of two points per game. This is his third consecutive appearance for the All-SEC first team. Malham is returning to the All-Conference squad after being selected in 2019. Malham has scored seven goals for the Hogs this season.
McKeon broke the school's all-time game record earlier this season and currently sits at 102. She has started all but one game this season and has five goals and six assists. She scored two goals in the 6-1 win over Missouri.
Forward Sophia Aragon has been elected to the SEC All-Freshman squad. She's played in every game this season, averaging 43 minutes, leading all of the Arkansas freshmen. She also contributed five assists.