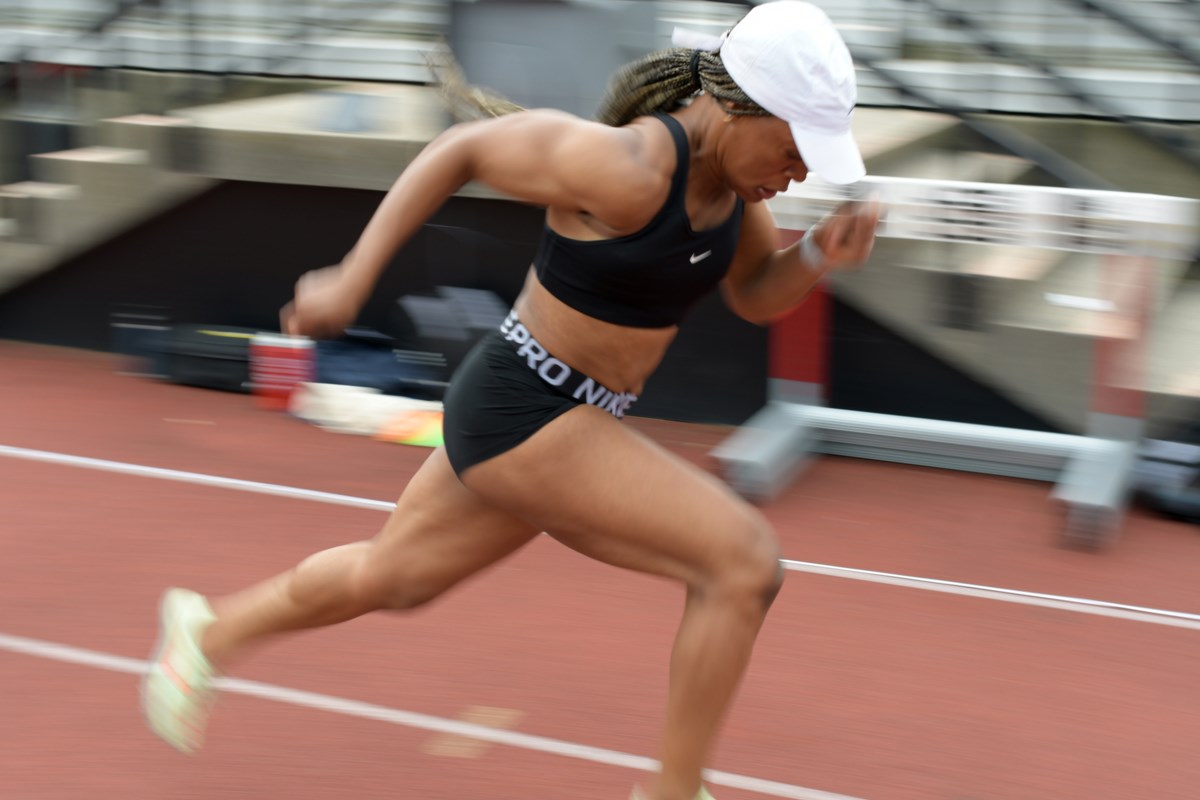 U of G football rookie leaves sport behind and jumps to track team
It seems that Jacqueline Madogo, "Jacq" for her friends and teammates, made the right choice by deciding to change sports.
Madogo came to the University of Guelph campus in 2018 as a rookie for the women's soccer team. A defender, she played 13 games in her second season, starting 11 of them, and scored one goal – a game-winner, no less.
But she had also done athletics back home in Ottawa high school and it was thought she might be good at it with the proper training. She had taken the usual high school training in sports, but had never joined an athletic club. After all, athletics took place in the spring and summer, just as soccer and soccer were its activities back then.
"I met the football coach (Shayne Campbell) because I was a football rookie," Madogo said. "He found out I was into athletics and he hooked me up with (Gryphon athletics coach) Jason (Kerr) and I was like I wasn't really doing athletics competitively per relation to soccer. When I was in high school, I played high-level football, but I only did school track. My experience was going to OFSAA (the provincial high school athletics championship) and that was it. Then one thing led to another and I ended up on the track team and since then I've been on the team and haven't played football anymore. It's been quite a trip to Guelph.
"The long and short story is that she came from football and I didn't think she would make our team," Kerr said. "I actually advised him not to try because I didn't think it was a good option, so that tells you what I know about it, doesn't it?"
This thought quickly changed.
"When she came to the team, we knew within weeks that we had our initial assessment completely wrong," Kerr said. "In her first race, she immediately ranked among the top few sprinters we've ever had in our program – in her very first indoor track race. She had immense, immense physical gifts. She simply had no experience, so it took a few years to give her the experience required to succeed at this level.
Now the fourth-year science student is full-time because she quit football. During the school year, she ran for the Gryphons and she recently capped off her season with a gold medal at the U Sports National Championship in Saint John, New Brunswick, winning the women's 60 meters with a time of 7.30 seconds, just off the school record of 7.29. set by Shyvonne Roxborough, the only other Gryphon to win the event and she did so twice in 2017 and 2019.
"It's been a really good season," Madogo said of his year with the Gryphons. "The team performed well. We won the men's and women's titles (at the U Sports and OUA provincial competitions). It was fun and I really enjoy being part of this team. Everyone works hard and that obviously makes you want to work hard every day. The work ethic on this team is incredible.
And his own performance?
"Being the U Sport champion was just something that happened," she said. "It was quite a surreal moment. My whole family was there. It was great to have them there and to be able to share this moment with them.
Now that the indoor varsity season is over, Madogo has turned her attention to the outdoor season as a member of the Royal City Athletics Club in Guelph and she has been just as fast outdoors.
She won the elite women's 100 meters at the Bob Vigars Classic in London late last month with a time of 11.29 seconds, beating runner-up Crystal Emmanuel by 0.09 seconds. Emmanuel is a three-time Olympian in the 200m and Canadian champion in the 100m and 200m.
Last weekend, Madogo finished second in the 100m at the Montreal Classic with a time of 11.37 seconds while Audrey Leduc of Gatineau won in 11.36.
Both of these events were part of the National Athletics Tour, a 10-competition tour.
Madogo obviously learned quickly as the switch from football to track meant a change in his running style.
"I joined the track team my second year after football season," she said. "It was a bit scary at first but Jason and the team were very welcoming and I was just trying to absorb as much information as I could while I was on the track team because it was something something new for me. I didn't really know how to run as a track athlete. I knew how to run as a football player and we were trying to erase that and get me to run as a track athlete. took time and we are still learning.
"Football players move in all directions all the time, so they're used to moving in short, jerky steps," Kerr said. "On the track, it's all about power, it's all about length. It's about expressing full ranges of motion, so I think that's the fit, but frankly, after coaching many other team sports athletes, it came to him pretty quickly.
At the Royal City Inferno Track and Field Festival on Wednesday at the Alumni Stadium, another national circuit meet, Madogo won the women's 100m in 11.38 seconds.