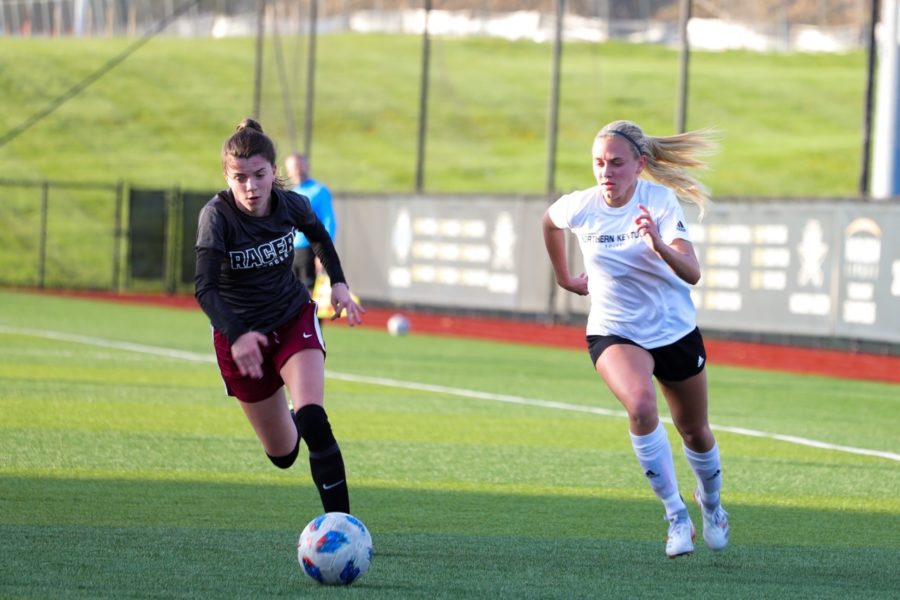 The Northerner | Takeaways from the spring women's soccer season and in anticipation of the fall season
The preseason for Northern Kentucky women's soccer saw a lot of changes in the team. With the departure of a few key seniors, the team is transitioning its young players into bigger roles.
The team's spring season has had its ups and downs so far, but it's been seeing positive growth early on.
"Overall, I'm happy with what I've seen from everyone on the team this spring. We are focusing on individual player growth in pre-season and many players are taking on bigger roles to fill in the gaps from last fall. said head coach Bob Sheehan.
The aspect that made Sheehan the proudest was last season's fast-paced offense that sometimes failed to find the back of the net. As for why the team has seen an increase in attacking success, striker Annie Greene attributes it to "better ball movement and better passing." "This pre-season we're just doing a really good job of finding the open player and keeping constant pressure on opposing defenses for 90 minutes, which has allowed us to score more."
The team's fans even noticed the first successes and growth of the club in the spring.
Harrison Kitchen, an avid fan of the team, said: "Even from the side, you can tell this team just moves faster and plays harder on both sides of the ball in pre-season."
Despite the new faces and the youth of the team, they played well and Sheehan hopes to see their continued growth as they finish playing the last two games of their spring pre-season.
As spring draws to a close and players begin to solidify their roles for next season, the starting roster might look like this.
Note: The player year listed is current to Spring 2022.
11 departures scheduled for the 2022-23 Northern Kentucky women's soccer season:
Goaltender: Mimi Stines, Senior
Stines has been a staple for the Norse for several seasons now and is on track to have another stellar season next fall. Although she is currently struggling with an injury, she is on track to be fully healthy by the fall. During his years with the team, Stines racked up accolades such as Horizon League Defensive Player of the Year, Horizon League Goaltender of the Year, and All-Horizon League First Team.
Defender: Taylor Abbott, Junior
After starting in eight games in her sophomore year and 14 last season, Abbott has become one of the team's most reliable defensemen. With her continued growth on the defensive side, she looks like a "set it and forget it" starter for Sheehan in the fall.
Advocate: Freshman Lydia Self
Self arrived in her first season and had an immediate impact on the team from 15 games. In his first season alone, Self earned Freshman of the Year, All-Freshman Team, and All-Second Team Horizon League honors. After a good fall, she is looking to postpone her first successes until next season.
Defender: Megan Sullivan, Junior
Beginning with 18 games her freshman season, Sullivan again started every game of her junior year after recovering from an injury that kept her out of the entire sophomore year. The tremendous speed and physicality that Sullivan brings to the field has propelled her into a starting role since she started with the team.
Defender/Midfielder: Macy Harper, Junior
Harper played 14 games last season in his first year with the team after transferring from Xavier his second year. Her ability to play in multiple positions and be physical up front will make her a plug-in starter for Sheehan's team next season and help round out the backline of defense.
Midfielder: Kayla Wypasek, Junior
During his time at NKU, Wypasek took on more and more responsibility with each season. Thanks to a strong fall season, she will see even more playing time next season and will most certainly play a key leadership role in her senior season.
Midfielder: Shelby Wall, Junior
Heading into his senior season, Wall will be an anchor for the midfield and will be an important part of the team's first line of attack and defense. Wall is a solid scorer, ball facilitator and wins many 50/50 balls in defense. She will be one of the veterans of the team along with her other senior teammates in the 2022 season.
Midfielder: Kaya Vogt, second year
Vogt has started every game of her college career and has been the cornerstone of NKU's midfield since she arrived on campus. She improved her All-Freshman team selection in her first season when she was named to the All-Horizon League first team a season ago. At the start of his junior season, Vogt will once again lead the Norse midfield with his solid play.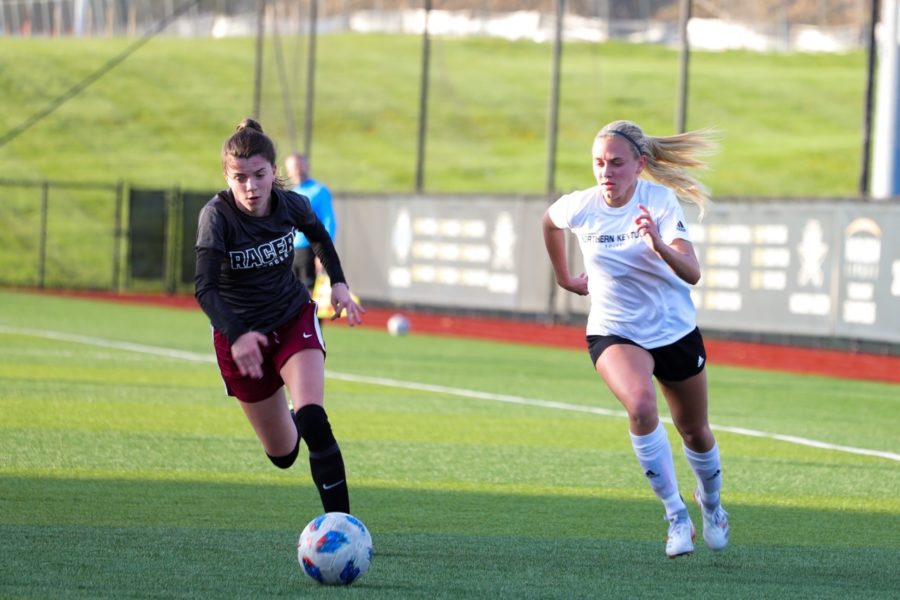 Attacker: Lindsey Meyer, Junior
For the past two seasons, Meyer has served the team as a starter in every game as a forward. During her tenure with NKU, she exemplified a unique ability to create offense in a variety of ways with her eight goals and 12 assists during her college career. These qualities will no doubt make Meyer a full-time starter in the fall once again.
Forward: Annie Greene, Junior
As the season progressed last fall, Greene began to see more and more game action and even started a handful of games. With her continued growth, the junior looks set for a starting role up front in her final season with the club. Greene brings a great amount of energy to the pitch for the Norse and will look to do so again in 2022 for NKU.
Attacker: Sofia Wilmes Second year
Wilmes has been one of the top scorers in the Horizon league since the start of his NKU career. As one of the team's young leaders, Wilmes has registered five goals and two assists in 2021, following her first year being named to the All-Freshman team. Wilmes' aggressive and fast-paced nature of play complements the other nine starts well and makes them a top team heading into next fall in Horizon League 2022.
Five things the Spring 2022 pre-season showed:
1. NKU will remain a first pass team:
Passing and finding the open player is one of the main things Sheehan emphasizes. Throughout pre-season, the Norse have continued that with stellar passing all around the pitch, which has led to their surge in attacking power so far.
2. Constant pressure/strong play at the point of attack is the defensive style of play:
Much to Sheehan's delight, the team has done a solid job playing solid defense and winning possessions this spring. This style of play led to these attacking opportunities right from the start of the pre-season. Continuing that will be a huge key to Norse success next fall.
3. The individual growth of each player is the goal of spring:
While the main focus is always on team growth, Sheehan has repeatedly spoken of "individual development and growth" as the main focus of spring. Many players have stepped up and shown growth so far this pre-season, which has been crucial in filling the role of players lost last fall.

4. Growth on the attacking side is a focal point:
Offensive dry spells were what kept NKU from being the great team they were just a year prior. Lack of offense was a big factor behind the five-game losing streak they endured in the fall of 2021. Coach Sheehan wants to see his team score more consistently, rather than in spurts like he there is a season. Strong attacking results so far this spring offer hope that this trend will change in the fall of 2022 for the Norse.
5. The seniors will play a huge role in the team's success next season:
Eight of the projected 11 starters next season will be seniors. The starting 11 of mostly upperclass men has had a successful spring and if the trend continues, it bodes well for team morale and confidence heading into the 2022 regular season.