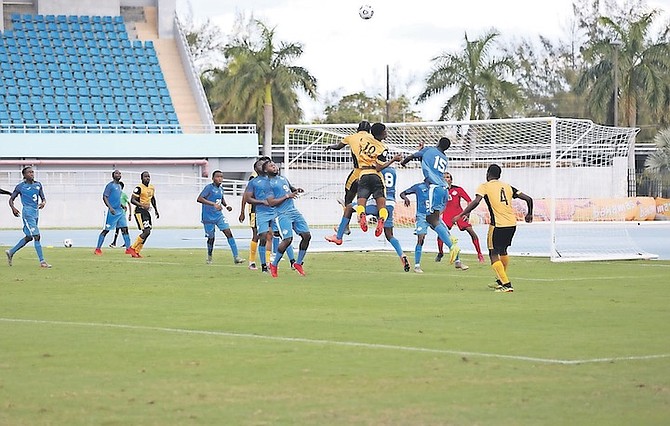 The men's national football team is announced
THE Bahamas in action against the Turks and Caicos Islands this weekend.
At the end of the two-game split of their friendlies against the Turks and Caicos Islands this weekend, the Bahamas Football Association has selected its men's national team that will represent the Bahamas in the CONCACAF National League.
The Bahamas will host St. Vincent and the Grenadines on Thursday June 3 at the Thomas A. Robinson National Stadium and head coach Nesly Jean said the matches against the Turks and Caicos Islands were used as a tune-up to see what is needed for a competitive men's team.
Although the team selected was slightly different from the one that played in the friendly match, Jean said he was confident the Bahamas would win.
The people selected for the team are:
Lesly St Fleur (defender), Jean Francois (defender), Julio Jemmison (goalkeeper), Troy Pinder (defender), Evelt Julmis (defender), Wood Julmis (defender), Ian Lowe (goalkeeper), Alexiou Cartwright (midfielder), Roen Davis (midfielder), Vance Wheaton (goalkeeper), Kenaz Swain (defender), Michael Massey (midfielder), Derrick Ferguson (defender), Jordin Wilson (forward), Nathan Wells (midfielder), Christopher Rahming (midfielder), William Bayles (midfielder), Omari Bain (forward), Quinton Carey (defender), Marcel Joseph (midfielder), Logan Russell (midfielder) and Ncolas Lopez (midfielder) .
"We have a different team to the one that just played. We added veteran players who haven't played," Jean said. "We think these guys are going to help us tremendously in terms of what we're looking for as we move forward."
Although he declined to comment on the team's weaknesses, Jean said they have a strong squad that can play all over the pitch which is a plus for the future.
"We will have a very competitive team," he said. "It all depends on their ability to adapt to the plans we presented to them. If they stick to the game plan, we should do just fine.
"I expect, like any coach, that our team will come out and win."
The Bahamas have been placed in League B in Group C, which includes Saint Vincent and the Grenadines, Trinidad and Tobago and Nicaragua. After their home game, the team will travel to Trinidad to play on Monday June 6th. Their match against Nicaragua has yet to be determined.
As they prepare for their first game, Jean said they just have to be patient and ride the wave of having the fans in the stadium stands to cheer them on.
"It's always important to have that third man in the stadium because every time we travel we play teams that have so many fans cheering them on," Jean said. "So we encourage Bahamas fans to come out and cheer on the team."
This is his third year as national team head coach, but the former national team player says it has been difficult to ensure players adhere to the system that he and his coaching staff, including Kevin Davies, have established.
"It's good to see the different sides of the pitch," Jean said. "Going out there and training these guys every day helped me understand what coaching is.
"Over the past year or so I think I've improved and the players have a better understanding of what we're trying to implement. So as long as they're doing it, it makes the job a lot easier. But it's a learning process and I'm happy to have the opportunity to coach them at this time.
The team, which Jean says could change player personnel from game to game, will be led by Larry Minns.