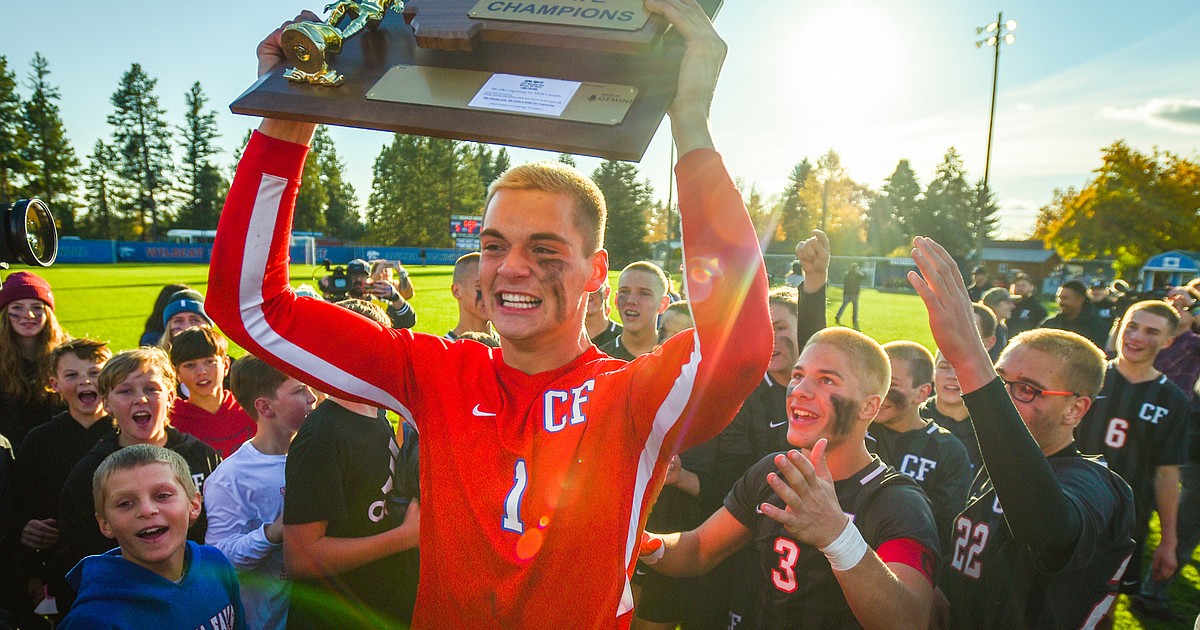 The boys of Columbia Falls win their first football title since 2005
COLUMBIA FALLS – They saved their best game for last, and in the end, they were crowned state champions.
The Columbia Falls Wildcats took a four-goal halftime lead to a 5-2 victory over the Livingston Rangers in the Class A Men's Football Championship at Flip Darling Memorial Field on Saturday.
"Their best game, on the biggest stage under the biggest lights," Wildcats coach O'Brien Byrd said. "It was amazing. I'm so relieved.
It was the Wildcats' first state title in 17 years and the first time since 2004 that Columbia Falls played for a title on home turf. Many of the players who lifted the first-place trophy weren't even born back then.
"I just feel this huge amount of relief and joy," Byrd said. "It's hard to describe — 17 years old. These guys weren't even alive when we last won the state. And that's just a huge piece of history. This team is amazing. It's full of amazing young men who are brilliant footballers, but also fantastic characters.
"I was very lucky to be able to coach them and I'm so relieved and so happy that they can lift this trophy on their last day. We feel really special today, that's for sure.
The past two years have ended in losses to Whitefish in the state finals.
As a coach, this is Byrd's fifth state title. He won four as Whitefish manager before he left in 2015.
Columbia Falls also finished with a 15-0-0 record, the best in school history. Goaltender Bryce Dunham tied the school record with nine shutouts.
"I think, as they always say, 'third time is the charm,'" Finley Sundberg said. "Our third time in the state championship and we finally won it. So it's just crazy to think about it.
The urgency was evident from the start – the Wildcats looked like they had been shot down.
Dale Blickhan found a hallway in the 20th minute and his shot went just out of reach of Livingston's keeper.
"We wanted to score that first goal early and I think when we got it the momentum continued and we kept going, you know?" Sundberg said.
Next to hit was junior Kai Golan, the forward who broke his back in last year's state title game and is back to peak form. Golan scored in the 26th minute with a left-footed shot that flew just under the crossbar.
He hadn't finished yet. Before halftime, Golan scored twice more, completing a hat trick with a header after a rebound bounced off, and the Wildcats settled into a comfortable 4-0 lead.
"He never fails to stand out in those big moments," Byrd said of Golan.
Livingston's Calvin Caplis is one of the top scorers in Class A and he put Rangers on the board in the 49th minute.
A minute later, Sundberg hit the back of the net to make it 5-1 for the Wildcats.
"I just feel ecstatic…best in the state," Sundberg said. It was our game to win. And I think we went out there and showed them that was our game."
At this point, starting goaltender Dunham had been replaced by Rafe Rusche in net and the starters were on the bench. Backup keeper Braeden Fairchild took a few shifts up front and had a chance to score.
"Everyone got into the game," Byrd said. "I think it's important. How lucky am I to be able to put everyone in the game? I am so lucky. I'm so glad the guys were really successful, that they put us in a position where everyone could come in and play. And I'm really grateful for that too.
Caplis added another goal in the 66th minute, but the Wildcats held their lead until the final whistle.
Dunham and Rusche combined for 14 saves and Sundberg had two assists. Blickhan and Max Everett also had one assist each.
Livingston 0 2 — 2
Columbia Falls 4 1 — 5
CF – Dale Blickhan (Max Everett) 20:00
CF – Kai Golan (Blickhan) 26:00
CF – Golan (Finley Sundberg) 31:00
CF – Golan (Sundberg) 36:00
L – Calvin Caplis 49:00
CF – Sundberg (Golan) 50:00
L-Caplis 66:00
Plans—Livingston 13, CF 22; Goalie saves – Livingston 11, CF 14 (Bryce Dunham 10, Rafe Rusche 4); Corner kicks – Livingston 4, CF 5; Fouls — Livingston 12, CF 9.