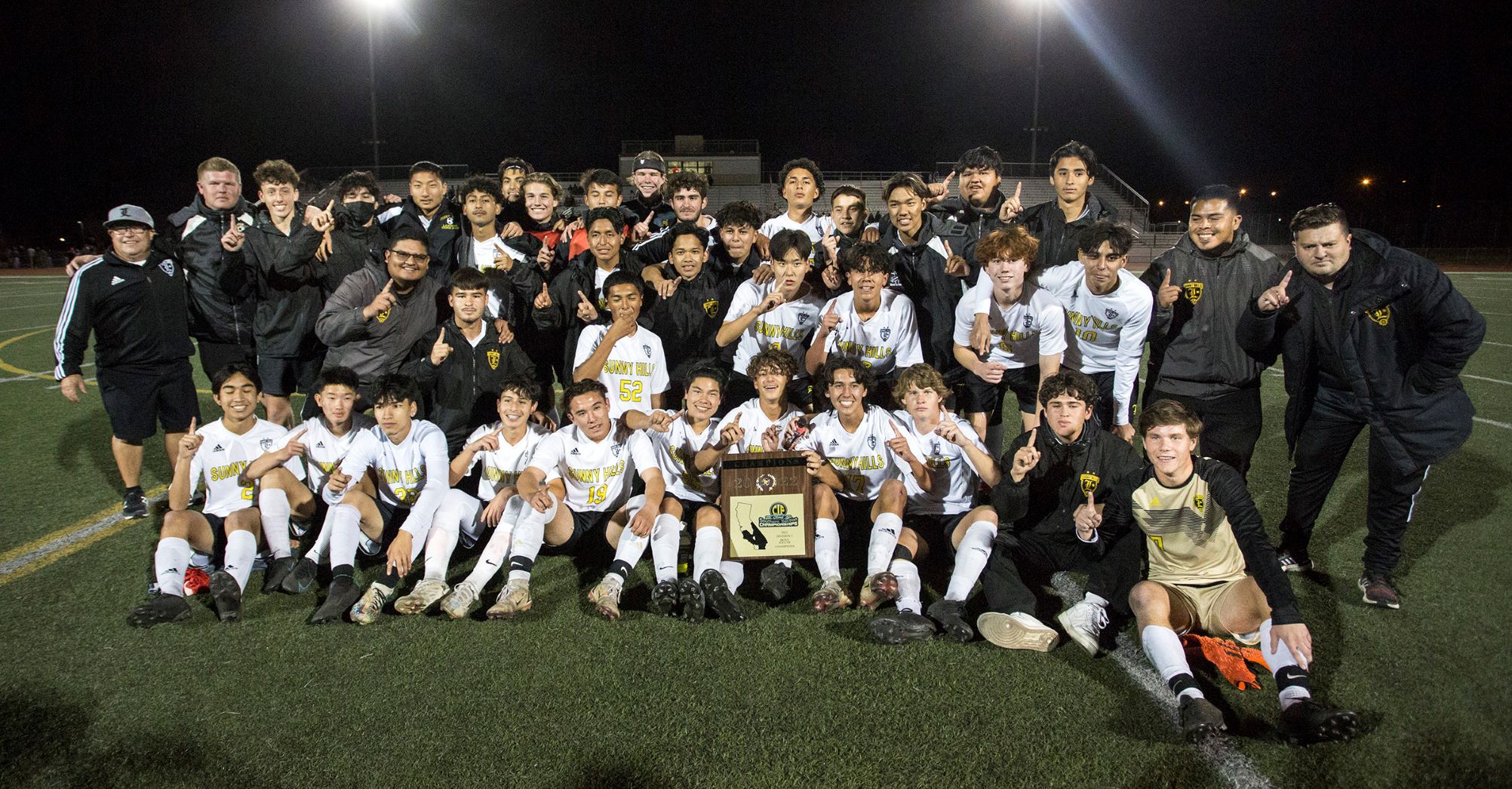 Sunny Hills Boys Soccer Team Wins CIF Title With Overtime Victory Over Norte Vista
Sunny Hills players and coaches celebrate after the team won the CIF title on Saturday night. (Photo courtesy of Jim McCormack, for OC Sports Zone).
In his 34 years with the Sunny Hills men's soccer program, Coach Mike Shade has had a number of great teams…CIF Champions, CIF Finalists, CIF Semi-Finalists, CIF Quarter-Finals, Freeway Champions League… you get the picture.
And now you can add another Lancer team to that story…. The 2202 Lancers, who won the CIF Men's Division 3 soccer title on Saturday night with a 1-0 overtime win over Norte Vista at Ramona High School in Riverside.
And where does this team rank among the legends of Sunny Hills?
"I'll leave that to the oldies to discuss," said a drenched Schade with a smile.
When the fights start, and they're in good spirits, this Lancer team will have a pretty good record.
A year ago, this team's key players were part of a squad that finished fifth in the Freeway League as the Lancers missed the CIF playoffs for the first time in 20 seasons.
This led to a season this year with one goal.
"Our goal was to win a CIF championship," Schade said.
Sunny Hills achieved this goal in a remarkable way. The team is 18-3-4 this season and will play again when regional SoCal pairings are announced on Sunday.
The Lancers won Saturday's game when, eight minutes into the first overtime, Justin Coen sent a long pass to Matthias Brown who won a run for the ball, got the keeper out, then fired a shot in the empty net.
The victory was on the 14and in 15 games in which the Lancers have scored more than two goals just once.
In their run to the playoffs, Sunny Hills beat Canyon (2-0, Santiago (Garden Grove (2-0), Palmdale (1-1, penalty shootout win, 3-1), Valley View of Moreno Valley ( 2-1 in overtime) and Norte Vista (1-0 in overtime.
—Courtesy of Jim McCormack, for OC Sports Zone