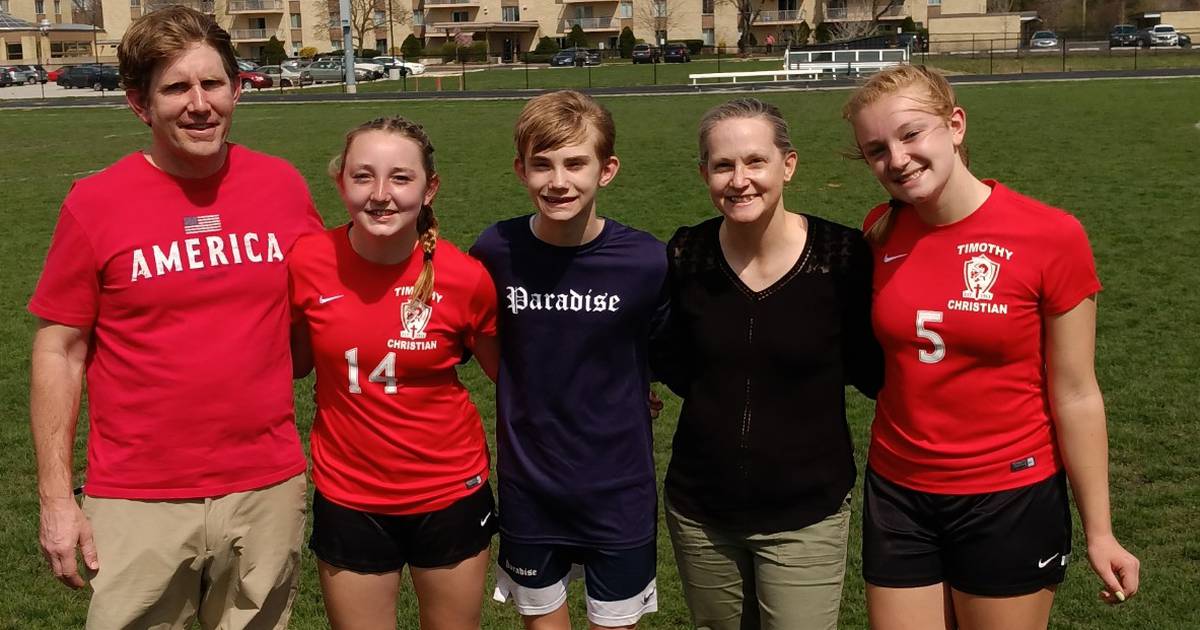 Sport is a family affair for Timothy Christian star Maddie Drye – Shaw Local
ELMHURST — Timothy Christian star Maddie Drye walked the football pitch on Saturday, basking in the warmth of a picture-perfect spring day.
But the weather wasn't the only reason for the junior striker's happiness. Nor did Drye get an assist in the Metro Suburban Conference Trojans' 2-0 win over St. Francis in Elmhurst.
Playing alongside Drye was sometimes his freshman sister Sami. A few feet away, his seventh-grade brother, Dylan, paced the sideline as one of the ball boys.
Drye's parents, Nate and Qiana, who have attended his football games for the past three seasons, watched all the action from the nearby stands.
But this school year has been different from all the others. Maddie and Sami are tri-sport athletes, also playing together on the tennis and basketball teams.
For the first time, Nate, a teacher at Aurora Central Catholic, was able to watch all of their basketball games. He stepped down last year after 17 seasons as the Aurora Central boys' basketball coach.
"We're a very close family," Maddie Drye said. "It was great having him there.
"He is always able to help me after the game. It was not an easy decision for him because he loves coaching.
Indeed, Nate Drye still lacks coaching, but he does not regret anything.
"It was really hard to give up but it was also easy," Nate said. "I work with some great people at Central and they're awesome, so that part was tough.
"But it was a pretty easy decision seeing everything my kids are doing. It goes by quickly and I didn't want to miss anything.
Nate said he had an "aha" moment two years ago when Maddie was a freshman on the varsity basketball team.
"The women's basketball team was playing in a regional final and (Aurora Central) had a game that was just a conference game," Nate recalled. "So I couldn't go to a women's regional championship game."
Nate told Aurora Central athletic director Sean Bieterman that he was considering quitting. But two days later, schools were closed due to the COVID pandemic.
"I didn't want to drop somebody in a bad situation where they had to try to be a freshman coach trying to get by," Nate said. "We didn't even know we would have one season, so I did it one more year."
Nate hasn't completely given up on coaching. He coached Dylan's basketball team this winter while attending all of Maddie and Sami's basketball games.
"My dad has always worked so hard with me over the summers on all my sports," Maddie said. "He still came to a lot of games when he was a manager, but having him there so much more really meant a lot to us.
"I think it's great that he can dedicate more time to working with us and teaching us."
While basketball is Nate's favorite sport and all of his kids excel at it, the Dryes are all-around athletes. Maddie and Sami play tennis, basketball and soccer, while Dylan currently plays basketball and soccer.
Maddie is the most accomplished so far. In tennis, she and her soccer teammate, Miliana Martens, qualified for state doubles and helped the Trojans finish third in Class 1A, the first trophy in program history.
Maddie was a goalie in all basketball conferences this winter, but her best sport is soccer.
"Football is definitely what I think is the best and definitely my favorite sport," Maddie said. "I've loved her for so long."
As a sophomore, Drye helped the Trojans go 17-3 and a second-place finish in the Class 1A State Finals. She has scored 20 goals, one less than team leader Emma Carter, and six assists.
With the graduation of Carter, who now plays at Purdue Northwest, Drye became the Trojans' best player and de facto leader. She had 11 goals and 6 assists in her first 11 games.
"She scored 20 goals last year and she probably could have scored 10 more," Timothy Christian coach Jon Hamelinck said. "She's been a little more efficient this year and just made the other people around her better.
"Emma is a pretty big loss, but the girls have stepped up and Maddie is one of them. She's taking more of a leadership role.
Maddie's leadership was key for the Trojans (7-4, 4-1), who won their first four games, then lost four in a row and are now on a three-game winning streak. Ella Vandermolen and Angie Tornabene scored and goaltender Corinne Myket made nine saves in the win over St. Francis, which is the third Class 2A team Timothy has beaten this season.
"I'm definitely more of a leader, leading by example, making sure the team prepares and has a focused mentality ahead of games," Maddie said. "My teammates are really great and I think with all of my sports this year I've learned that leading by example is one of the best things you can do.
"If people aren't working hard in training, it only takes one person to ramp up the intensity and everyone rises to your level."
This is also Maddie's first season with Sami.
"I love playing with her," Maddie said. "It's one of my favorite things.
"We know each other so well, so we kind of know what races we're going to do and what the other person thinks. I think it's something really unique and I don't think a lot of people can do that. experience, so I feel very lucky.
The same goes for Nate, who hasn't ruled out returning to training one day but isn't in a rush to do so.
"It's still a lot of fun for me, but just at the moment it wasn't working with what was going on with our kids' schedules," he said. "I love watching my kids play."