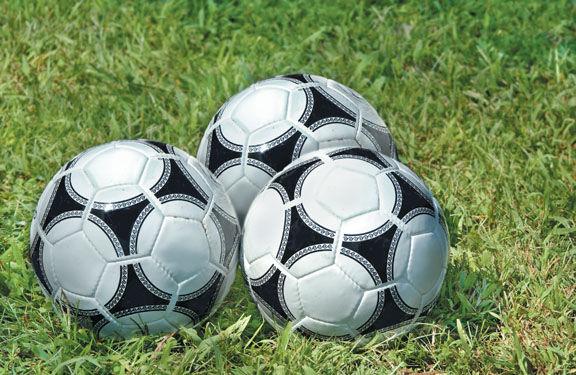 School gathering | Somerset boys' football team defeats Richland 2-1 | Sports
[ad_1]
Soccer
high school students
Somerset 2, Richland 1: In Somerset, Liam Egal and Cole Johnson both buried first-half goals as the Golden Eagles passed the Rams on Thursday.
Somerset improved to 5-2-1.
Trent Rozich scored for Richland (7-2) in the second half.
Forest Hills 2, Bishop Carroll Catholic 2 (2 OT): At Ebensburg, the Rangers scored twice in the second half and the Huskies scored one goal in each half, but neither team scored in two overtime sessions in a draw with the LHAC.
Catholic Bishop Carroll had goals from Zachary King and Will Tremel. Kaden Carpenter and Gavin Ickes of Forest Hills each scored one goal.
Each team is 1-7-1.
Bedford 7, Penn Cambria 0: In Cresson, Colby Barnhouse, Timothy Crist and Cole Taylor all buried two goals to beat the Bisons to the Panthers.
Cameron Hagenbuch also scored for 9-0-1 Bedford, who received assists from Nate Clapper, Crist and Taylor.
Penn Cambria fell to 1-7.
Westmont Hilltop 10, Grand Johnstown 1: Sebi Jones and Yousef Sbeitan both buried two goals as host Hilltoppers defeated the Trojans.
Derek George, Levi Giffin, Scott Hassett, Trevor Leckey, Conner Oeschlin and Maximus Zitnay also scored for Westmont Hilltop 10-0.
Jeremy Dietz scored for Great Johnstown (0-8).
high school girls
Rockwood 3, Berlin Brothersvalley 2 (OT): In Berlin, the Rockets buried a goal in the first overtime session to get ahead of the Mountaineers.
Kaitlyn Pletcher scored two goals for Rockwood (5-3).
JoJo Budzina added another score.
Grace Sechler scored both goals for Berlin Brothersvalley (6-4).
Somerset 4, Township of Conemaugh 3: In Davidsville, Willa Sharbaugh had a hat trick and an assist to lead the Golden Eagles past the Indians.
Haley Vought also scored for Somerset (7-3).
Izzy Slezak tallied a pair and Ashlyn Fetterman added another for 6-2 Conemaugh Township.
Richland 6, Catholic Bishop Carroll 2: Jewls Stem provided two goals and three assists and Delaney Yost added two to lead the Rams past the Huskies at Herlinger Field.
Camryn Beglin and Jenna Rucosky also scored for Richland (7-3).
Madelyn Lieb and Angel Kutsick buried Bishop Carroll's goals (1-5).
Bedford 14, Central Cambria 0: In Ebensburg, Sydney Taracatac buried five goals while Grace Sarver had four goals and four assists and Katelyn Shaffer provided a hat trick and three assists to lead the Bisons through the Red Devils.
Kaitlyn Richardson added a pair of goals for 10-0 Bedford. Peyton Gable recorded the clean sheet.
Forest Hills 1, Cambria Heights 0: At Sidman, Katie Beyer scored the only goal of the first half to put the Rangers past the Highlanders.
Forest Hills tied their record at 5-5.
Cambria Heights fell to 4-8.
Wednesday
Westmont Hilltop 8, Grand Johnstown 0: At Trojan Stadium, Mackenzie Kozak and Aubrey Rutledge both buried two goals to lead the Hilltoppers past the Trojans.
Jordan Pecze, Sabrina Zimmerman, Madison Heider and Melia Zagorski also scored for 7-1 Westmont Hilltop.
The Great Johnstown fell to 0-8.
Volleyball
high school girls
Township of Conemaugh 3, Shanksville-Stonycreek 2: In Davidsville, Riley Maldet compiled 23 kills and 18 digs to lead the Indians against the Vikings, 25-17, 25-13, 21-25, 23-25, 15-12.
Alison Matera finished with 35 assists and 15 digs for Conemaugh Township. Hannah Sodano added 10 kills and nine aces, while Chloe Bidelman added 21 digs and six aces.
Forest Hills 3, Westmont Hilltop 2: At Sidman, the Rangers won the last two sets to claim a comeback victory over the Hilltoppers in five sets, 18-25, 25-16, 13-25, 25-22, 15-9.
Mya Colosimo led Forest Hills with 15 kills and 15 serve points. Julia Chunta distributed 24 assists, Sophia Jacobs adding 17 assists and 11 digs.
Mackenzie Hoover had 10 kills and 13 digs. Lexi Koeck added 12 kills and three aces.
Addi Schirato finished with seven blocks.
Chloe Hoffman had 32 assists for Westmont Hilltop. Julia Kleinmeyer provided 18 kills and Carissa Krall added 12.
Bishop Carroll Catholic 3, Richland 2: In Ebensburg, the Huskies won the deciding fifth set in a victory over the Rams, 24-26, 26-24, 25-16, 21-25, 15-9.
Richland's Laikyn Roman had 37 assists and Madison Sciarrillo had 24 kills.
Chestnut Ridge 3, Bishop McCort Catholic 1: In New Paris, Belle Bosch had 29 kills and 14 blocks to lead the Lions past the Crimson Crushers, 25-19, 25-17, 20-25, 25-19.
Zoie Dunlap provided 18 digs and five aces for Chestnut Ridge. Riley Frankenberry added 15 assists and Isabella Hillegass added 10 blocks.
North Star 3, Meyersdale 0: At Boswell, Anna Grandas distributed 22 assists as the Cougars swept the Red Raiders, 25-10, 25-17, 25-21.
Savannah Walker scored eight wins and Chloe Miller added five.
Portage 3, Salisbury-Elk Lick 0: In Portage, Lyndsay Castel and Annie Davis both added six kills to lead the Mustangs past the Elks, 25-10, 25-10, 25-9.
Trissa Smith provided 13 assists and 13 points of service for Portage (7-3). Jada Willinsky scored 20 service points and four aces.
Somerset 3, Grand Johnstown 0: Shandi and Shawna Walker combined for 15 assists, and Gracie Bowers distributed 22 assists as the Golden Eagles swept the host Trojans, 25-17, 25-17, 25-6.
Olivia Svonavec scored eight wins for Somerset. Sydney Campbell provided 11 digs and five aces.
[ad_2]