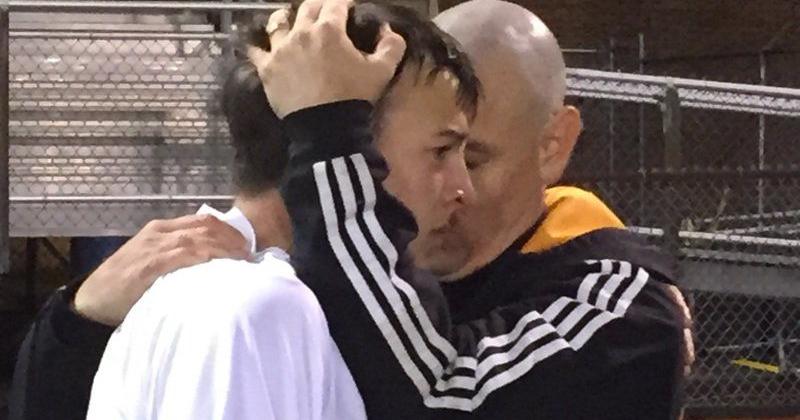 School Football/Volleyball Roundup | Wassilchalk of Somerset earns 200th career victory | Sports
Soccer
high school students
Somerset 5, Chestnut Ridge 0: In Somerset, five Golden Eagles strikers each scored a goal as the hosts shut out the Lions. Vigi Hersh, Logan Baker, Logan Seslow, Carson Vought and Declan Egal each scored for Somerset while Liam Egal provided three assists on Wednesday.
Somerset's victory was the 200th of manager Mark Wassilchalk's career.
"For me, it's a night to reflect and be grateful to have the opportunity to cross paths with so many wonderful people," Wassilchalk said. "Over the years there have been many ups and downs. Although the good ones far outnumber the bad ones, there were some tough times. Moments that I know I learned from and that I hope the players learned from. In all honesty, in my 16 years at Somerset, I probably learned more from the 208 players I was lucky enough to know than what those players learned from me. Achieving a feat like 200 wins isn't about the individual. It's about the efforts of those 208 players and their families who have supported them. I can't think of a better time than now to thank all the players, coaches and others I met during my time at Somerset for giving me the opportunity to achieve this milestone.
"Actually, as I think about it, 200 wins is a great achievement and something to be proud of. However, when I look at what some of these kids who have been in our football program over the years and what "they have continued to achieve is even more impressive. When I think of all the children who have touched my life, it goes far beyond football. Many have shown how hard work and perseverance pays off There are doctors, nurses, teachers, coaches, business owners, firefighters, paramedics, engineers, Eagle Scouts, chemists and biologists working in critical areas of study, West Point graduates, members of armed forces and the list goes on and on. These are people I'm proud to know and this is a program I'm proud to be a part of. As a coach, I enjoyed a great run thanks to everyone I've had the chance with to be associated with the Somerset area soccer program. Reaching 200 wins gave me the opportunity to step back and be proud of not only the success we've had on the pitch, but also the success our players have had off the pitch.
Quintin Robison, Andrea Renna and Vought combined to record the shutout.
Cambria Heights 2, North Star 1: In Patton, goals from Ethan Kline and Dravin Beatty gave the Highlanders a cushion they wouldn't give up as they edged past the Cougars.
Aiden Kubeja's first-half goal was North Star's only tally while setting up the final.
Township of Conemaugh 3, Windber 0: In Davidsville, Austin Elliott, Jackson Sotosky and Dylan Giffin (two assists) each scored two goals and Declan Mainhart provided a clean sheet to lead the Indians over the Ramblers.
Bedford 3, Central Cambria 1: In Ebensburg, a pair of second-half goals from Cole Taylor paved the way for the Bisons as they moved past the Red Devils. Jack Becker also scored for Bedford.
Central Cambria's Ojha Ojha scored a goal in the second half.
Bishop Carroll Catholic 4, Penn Cambria 1: At Cresson, Pablo Fernandez had three goals and an assist as the Huskies outscored the Panthers.
Zach Novak added a goal for 3-3 Bishop Carroll.
Penn Cambria's Conlan Ball scored in the first half.
high school girls
Windber 3, Conemaugh Township 1: In Davidsville, Anna Steinbeck provided two goals and Riley Brubaker assisted on two scores as the Ramblers beat the Indians.
Mariah Andrews also scored for 8-0 Windber.
Izzy Slezak provided a marker for Conemaugh Township.
Ligonier Valley 3, East Allegheny 2: At Ligonier, Mikayla Moore scored two goals and Maddy Manges added one to power the Rams over the Wildcats.
Samantha Hallick and Natalia Saccamango scored for East Allegheny.
Cambria Heights 5, Moshannon Valley 1: In Houtzdale, Hannah Hite scored a hat trick while Erin Behe ​​and Brooklyn Galinis each scored to lead the Highlanders over the Damsels.
The Moshannon Valley striker was not reported.
Tuesday
Penn Cambria 9, Chestnut Ridge 2: In Cresson, Meghan Anderson scored three goals to lead the Panthers against the Lions.
Danielle Farabaugh added two goals for Penn Cambria, which received a scorer each from Madison Farabaugh, Kayla Galovich, Chloe Karabinos and Sydney Lee.
Chestnut Ridge's Graysen Callihan scored twice.
Richland 11, Grand Johnscity ​​1: Becca Fetchko buried a pair of goals to lead the Rams over the host Trojans.
Camryn Beglin, Samantha Bunnell, Carissa Kaufman, Mackenzie Layman, Shawna O'Dowd, Suniva Pawlowski, Jazzlynn Sossong and Delaney Yost also scored for Richland.
Greater Johnstown's Audrey Murray scored.
Volleyball
high school girls
Bishop McCort Catholic 3, Bedford 1: Gianna Gallucci dished out 33 assists and Bria Bair added 14 kills as the Crimson Crushers outscored the Bisons 25-22, 25-17, 25-27, 25-21.
Bishop McCort's Kate Edwards scored 11 kills and Starcia Bainey added 10. Emma Newcomer served five aces.
Bedford's Laney Lafferty delivered 26 assists, while Bailey Stahlman added 12 kills, seven aces and six blocks. Peri Bagley provided 10 wins.
Meyersdale 3, Windber 1: In Windber, Zoe Hetz compiled 19 eliminations and three blocks to lead the Red Raiders over the Ramblers 25-15, 25-21, 22-25, 25-18.
Amelia Kretchman added 10 kills for Meyersdale and Amber Long delivered 18 assists.
Molly Birkhimer had 15 assists and Maggie Manippo added 15 service points. Mahlon Horner had five kills.
Shadow 3, Conemaugh Valley 0: Jenna Muha provided 21 kills and Jadeyn Gross added 14 assists to lead the Panthers over the host Blue Jays 25-11, 25-18, 25-23.
Shade's Jaedyn Krupper contributed 11 digs and Deborah Bozovich scored nine kills.
Tuesday
Chestnut Ridge 3, Bishop McCort Catholic 0: Belle Bosch provided 17 kills and 11 service points, while Natalie Lafferty added 32 assists and 14 service points to lead the Lions over the Crushers 25-13, 25-20, 25-20.
Chestnut Ridge's Leah Winegardner had 10 service points, while Isabella Hillegass had nine service points and seven kills. Jada McGill had seven kills.