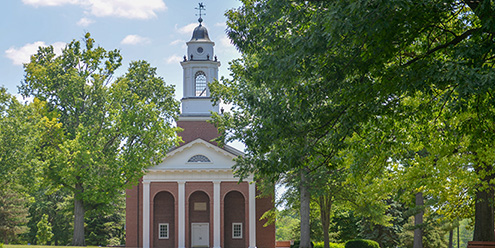 Scholarships abound for Wabash students
Six students from Wabash College have accepted scholarships to engage internationally. A total of nine Wabash men have been awarded international and postgraduate scholarships this academic year.
Three students, Jacques Boulais '19, Ian Gale '22 and Kwaku Sarpong '22, have obtained internships in the teaching assistant program in France (TAPIF), while Chase Breaux '24, Jacob Monninger '24 and Caleb Peare '24 received Benjamin A. Gilman International Scholarships to study abroad.
"It was really good news for these six men," said Susan Albrecht, scholarship counselor at Wabash College. "Over the last two years of the pandemic, we have seen many disruptions for students wishing to study, teach or research abroad, with record numbers of applicants, postponements reducing new scholarships and cancellations of programs. It is wonderful to have students who receive scholarships and to know that they will finally be able to use them for international experiences.
Since graduating from Wabash in 2019, Boulais has taught English in Martinique through TAPIF in 2019-20, then completed a Masters in French Studies virtually through the University of Wisconsin in December 2021.
While at Wabash, Boulais was a French major with minors in history and political science, a four-year member of the Wabash football team, member of the Sphinx Club, leader of the French Club, and member of the Kappa Sigma fraternity. . He has taken immersion trips to Kenya, Paris and the southern United States, studied abroad in Strasbourg, France, and completed a professional immersion trip with Career Services in Los Angeles.
"I am very happy to discover a new part of France and to put the language skills that I have practiced for years into my daily life," said Boulais, originally from Indianapolis. "I would also like to join a local football team while I'm there. Honestly, it's a huge relief to have my next adventure planned.
Boulais will be based in Toulouse, France.
Gale, a philosophy major with minors in French and economics, was a fellow at the Malcolm X Institute for Black
Studies, was editor of The Wabash Review, and participated in the Baldwin public speaking contest. He took an immersion trip to Paris and Caen, France in March 2019 with Dr. Karen Quandt's "Heroic Exploits in Normandy" class and graduated magna cum laude.
"Winning the TAPIF and planning for another year of my life is a relief," said Gale, a native of Phoenix, Arizona. "In addition to teaching responsibilities, I look forward to immersing myself in the culture, lazing in cafes and taking long walks."
Gale will be based in Amiens, France.
Sarpong, a French major with minors in political science and chemistry, has been involved with Wabash Christian Men, the African Students Association and the indoor football group. Previously, he studied abroad in Strasbourg, France during the fall 2021 semester, and in the spring of 2019 took an immersion trip to Paris and Caen, France with the class "Exploits heroics in Normandy" by Dr Karen Quandt. He has won the French Annie Crim Leavenworth Award, the David W. Peck Medal and is a member of Phi Beta Kappa.
"I'm excited to be going back," said Sarpong, a native of Suffolk, Virginia. "I had such a great time when I was in France last semester and on my immersion trip in 2019. I learned a lot about life and made a lot of good friends, and I look forward to the adventure that awaits me with TAPIF."
Sarpong will be based in the Montpellier region in the south of France.
Majoring in history with a minor in black studies, Breaux is co-chair of 'shOUT, fellow Malcolm X Institute
for Black Studies, where he is chairman of the alumni committee, writes for The single personis a Democracy Fellow for the Wabash Democracy and Public Discourse Initiative and participates in the Wabash Liberal Arts Immersion Program.
"It's an honor to be selected for the Gilman Fellowship," said Breaux, a native of Houston, Texas. "Winning this award means I am able to take advantage of the opportunity to study abroad in Amsterdam and grow as a student, leader and global citizen. More than anything else, I look forward to meeting new people from different backgrounds, broadening my view of the world and becoming a more complete person.
Breaux will be based in Amsterdam, the Netherlands, at the Vrije Universiteit Amsterdam.
A major in history with a minor in film and digital media, Monninger leads social media efforts for the International
Center and looks forward to his experience abroad.
"I am grateful for this opportunity and the funding given to me by the Gilman program and intend to make the most of it," said Monninger, a native of Fishers, Indiana. "I look forward to exploring and documenting the history, architecture, art and culture of Paris and, perhaps, other places in continental Europe. Through my study program and the experience of living in Paris, I hope to learn more about the history and improve my skills in photography and filmmaking.
Monninger will be based in Paris, France.
A graduate in Spanish with minors in French and Education, Peare is a member of Theta Delta Chi fraternity and participates in College Mentors for Kids, Wamidan and the Wabash Pep Band. Previously, he studied abroad in Oviedo, Spain while in high school.
"It's an honor to receive the Gilman Fellowship," said Peare, a native of Huntington, Indiana. "This scholarship eases a heavy financial burden and will give me the flexibility to engage in more overseas activities. I am very happy to walk the Camino de Santiago during my stay in Spain.
Peare will be based in Valencia, Spain.
The Teaching Assistant program in France offers the opportunity to work in France for seven months, teaching English to French students of all ages. Each year, more than 1,500 American citizens and permanent residents teach in public schools in all regions of metropolitan France and overseas departments such as French Guiana, Guadeloupe, Martinique and Réunion. The American cohort is part of the largest Language assistants in France program which recruits 4,500 young educators from 60 countries to teach 15 languages ​​every year in France.
Administered by the Institute of International Education, the Gilman International Scholarship Program aims to encourage participation in study abroad programs, particularly for underrepresented students and those studying in underserved areas. -represented in the world and/or under-represented. languages.
IIE seeks to support a cohort of American students studying abroad that reflects the true diversity of the nation. Fellows have the opportunity to better understand other cultures, countries, languages, and economies, making them better prepared to take on leadership roles in government and the private sector.
Over the past nine years, Wabash men have earned 83 highly competitive scholarships. The list includes one Rhodes scholarship, one Truman scholarship, two NCAA graduate scholarships, one Woodrow Wilson teaching scholarship, one APSA Minority scholarship, 26 Fulbright scholars, 25 Gilman scholars, 11 USTA scholars, seven language assistantships and North American cultures in Spain. , six TAPIF (France) English teaching assistants, one Freeman-ASIA scholarship and one JET beneficiary.