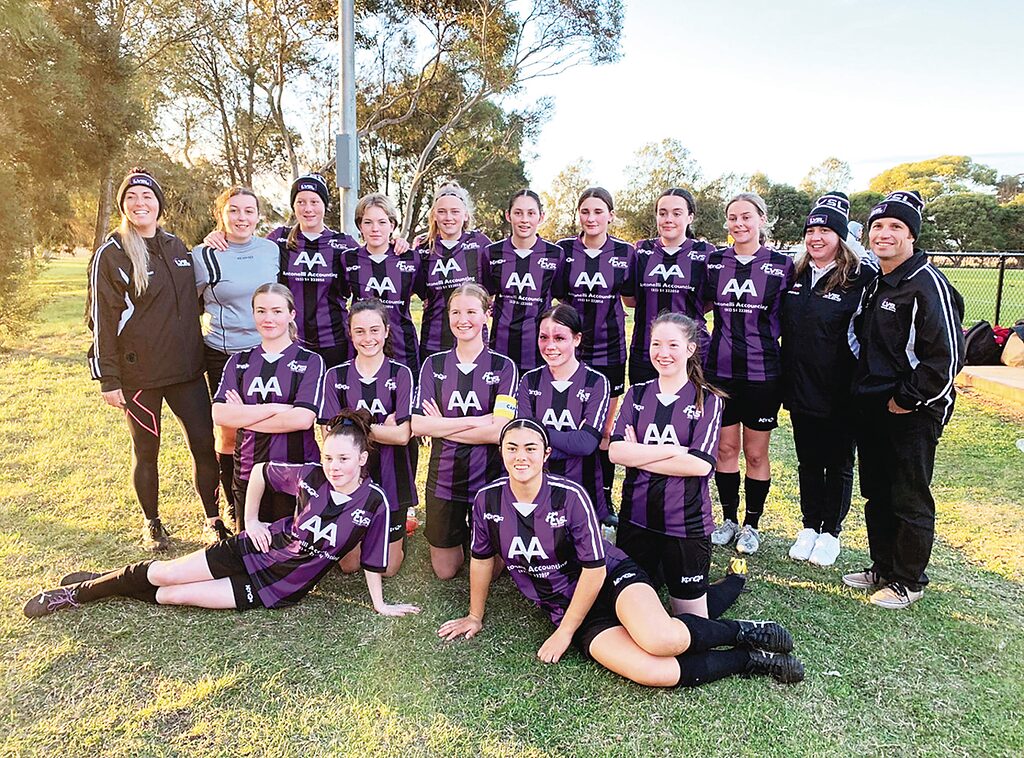 Sale United best represented the Latrobe Valley Football League in the 2022 Country League Football Association Junior Championships
Switching their emerald green shirts to purple and black, Sale United's top junior players represented the Latrobe Valley Football League in the 2022 Country League Football Association Junior Championships over the anniversary long weekend of the queen.
The championships brought together around 1,500 of Victoria's best junior football players from 12 regional competitions, including Ballarat, Bendigo, Geelong, Shepparton, Moama-Echuca, Sunraysia and Albury-Wodonga.
Ten girls from Sale United Football Club have made it to the LVSL Women's Under-18 team, the only women's team representing LVSL in the Championships, alongside four girls from East Gippsland FC and two from Falcons FC .
Madelaine Breakspear de Sale coached the team.
Sale United's Mace Irvine, Cooper Coleman and Chris Kelsey have joined Hollie Ryan, Majidah Bitar, Sammi Kent, Dani Wilson, Jade DuVe, Leyla Babuc, Milli Harbour, Camille Japhary, Emma Robb and Rohanna Mills to represent LVSL at Under 18 years old. at the Country League Junior Championships over the long weekend.
In the LVSL Under-14 Boys, Sale United were represented by players Alvin Sae-Chew, William Callanan, Mitchell Norwood and Will Glover.
Sale United's Jack McGrath, Oscar King, Jax Eldred, Kai Guiliani and Nate Miles have played in the LVSL Under-13 Boys Championships, while Heath McGrath has played for the LVSL Under-12 Boys.
Alexander Olijnyk and Jonathon Sulyman used to play in the LVSL Under-11 Boys team as Sale United's youngest representatives.
The 2022 Championships have been eagerly welcomed by associations and players, having not taken place since 2019 due to the ongoing pandemic, forcing cancellations in 2020 and 2021.
Among the happy football fanatics was tournament director Lisa Brooks.
"It was a fabulous weekend and it was great to be back after three years of cancellations," Brooks said.
"We had just over 1,000 players down on Geelong with around 4,000 people in the area for the tournament, spread across two venues, Myers Reserve and Stead Park."
With more than 200 football matches on full-size pitches played on the Saturday, Sunday and Monday of the Queen's birthday long weekend, the event has made up for lost time.
The Girls Under-18 played six games in two days, bouncing back from an early loss to Geelong to enjoy an impressive campaign.
"Every game they just kept getting better and better," Breakspear said.
"Over the weekend, the girls worked together, giving 100 per cent in every game, even though it was miserable and absolutely freezing.
"The girls played very good football."
LVSL prepared for another battle against Geelong, with both sides going into the final with five wins from six games.
Despite Valley's best efforts, a second-half brace to Geelong striker Mia McCoach-Cripps gave Geelong ultimate glory, winning the final 2-0.
"It was a disappointing result; the girls really gave their all," Breakspear said.
"It was a huge weekend, and they were just exhausted, exhausted emotionally, physically and mentally."
"At the end of the day, I really wanted the weekend to be about the team and the girls having fun, and they did.
"They really had fun. We had team dinners; I even had them do an ocean retrieve at the beach, which I can tell you was freezing.
"Although we didn't win the final, seeing the girls happy, having fun and making new friends was so nice."
The LVSL girls went home on Monday in good spirits.
"Although we didn't win the tournament, I think our team definitely came back as winners, after making friends and playing to the best of our abilities," said player Camille Japhary.
"The scores reflect how our team has improved from game to game as we have grown closer as a group and familiarized ourselves with each other's styles of play.
"Overall it was an amazing experience that helped me improve my football skills and gain great connections in the football community."
Another player, Dani Wilson, who was attending the Championships for the first time, said the weekend had been very enjoyable.
"The weekend went very well and was very pleasant. Our team bonded so well from day one," Wilson said.
"The girls in our LVSL Under-18 team were the best. I couldn't have asked for a better team.
"Maddi was the most thoughtful and caring coach ever; she had so much faith in us and made the whole weekend so much fun."
The LVSL men's under-18 team had a great campaign, reaching the final against Sunraysia.
In a dramatic contest, Sunraysia won the decider 2-1.