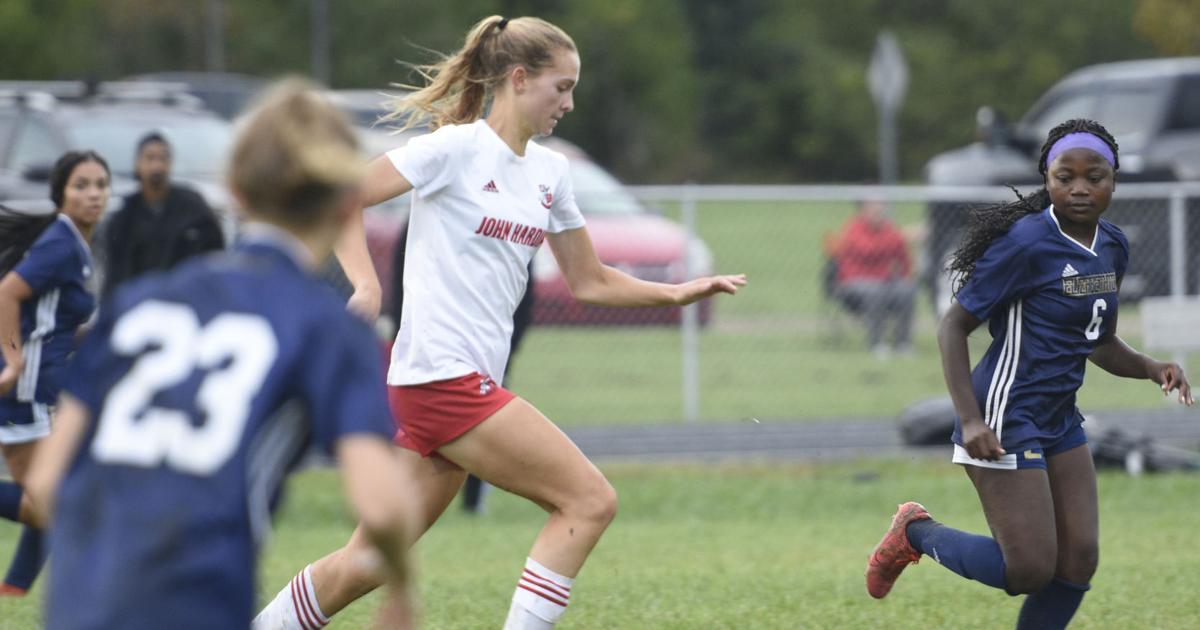 Rowlett and EHS lead way for All-Area women's football selections | Sports
After claiming the crown in the 17th District Tournament this season, the Elizabethtown women's soccer program has been further recognized for its achievements on the field this season by its other programs in the surrounding area.
The Lady Panthers have won four of five individual awards for The News-Enterprise Coaches All-Area Women's Soccer Team this year.
The only individual recognition that didn't go to a player in the Elizabethtown program went to John Hardin's senior midfielder Kaitlyn Rowlett, who came back as Offensive Player of the Year after being co- selected for the award last year. Rowlett finished with 20 points and three first place votes to take first place ahead of North Hardin's Kiara Loggins with 17 points and two first place votes. Haylie Panter of Central Hardin was third.
Coaches have nominated student-athletes from their teams to be considered for a spot on the All-Area team, as well as for individual awards. All the coaches were considered for the coach of the year.
The coaches then voted on a ballot based on the nominations. Coaches could not vote for themselves or their student-athletes.
"It's definitely a testament to all of my time and hard work at John Hardin," Rowlett said. "It shows that I showed up in the neighborhood and everything."
Rowlett has been the driving force behind the Lady Bulldogs' offense for much of the season, scoring 19 goals to lead the team in the scoring charts. She also had five assists to share the team lead in this category with Teresa Cedillo.
"Obviously I want to thank (John Hardin's coach Erik Krivitsky) and everything he has done for me throughout my years at John Hardin and my teammates as well," Rowlett said. "I just work with myself in practice and everything."
Rowlett will travel to Eastern Kentucky University next season, where she will continue her career as a college footballer. In doing so, she will become John Hardin's second female soccer player to compete at the NCAA Division I level, following 2013 graduate John Hardin and Morehead State player Shiann Washington.
DEFENSIVE PLAYER OF THE YEAR LANGLEY WALLACE, ELISABETHTOWN
Wallace was another repeat individual winner on this year's All-Area squad. The sophomore was named Defensive Player of the Year with 26 points and five first-place votes, defending her title against Morgan Covey of Central Hardin, who finished second with 15 points. John Hardin's Lara Hasouneh finished third.
"I was really lucky, really, really lucky to be elected last year. I was up against a lot of really good girls, a lot of older girls and this year I think it was. was on my to-do list, "Wallace said." I wanted to be that force in the neighborhood and I want to be recognized like that over and over again. You don't want to fall. It was also kind of like a postman. motivation too. We didn't win in the districts last year and I got it anyway, which really surprised me, I was really grateful, but this year we are winning the district and I feel like the team were really good. Individual rewards is kind of for the team. I just hope everyone, even my outside full-backs, I really hope they know that this price also applies to them.
Wallace was integral to a defense that has allowed just 20 goals this season. Lady Panther's defense has only allowed more than two goals in a game on two occasions.
"We had very good senior leadership in our goalie. (Emma Grimm) was really good at talking to us. I've had younger daughters too and know what it's like to be a freshman in college. It can be stressful and it can make you nervous playing with these girls, so I kind of got what it looked like, "Wallace said. "I just felt like I had to be kind of a leader or role model there because I had been in their shoes before and I know what's possible."
With two more years of high school football to look forward to, Wallace can't wait to see what she and her returning teammates can accomplish with more experience under their belt.
"I hope a regional championship and another district championship are in the cards for us," she said. "We have a really good program that we're building with JV and everything. I just hope to see that everyone gets better and that we get better as the year goes on.
GOALIE OF THE YEAR EMMA GRIMM, ELIZABETHTOWN
Grimm has made her presence felt inside goal this season and has been recognized as the region's top goalie for her efforts, earning 21 points and four first-place votes. Sharon Tidwell of John Hardin followed in second with 15 points. Aubree Phoutharansy of North Hardin was third.
"I am obviously very grateful. I thought I had a pretty good season, "said Grimm. "Honestly I was surprised I got it but I worked hard for it and always tried to get the team out and train just to get better. My last game was definitely my best game that I have played all season.
Gimm finished his senior season with 46 saves for an average of 2.9 per game. She has allowed just 16 goals during the year and has been credited with three shutouts.
"I think my leadership in my defense was great. I used my communication and it really helped my defense to break them down and not get that many shots, "said Grimm. "I just used the technique my coach taught me (Elizabethtown assistant coach Jon Parsons), he was my goalie coach. I think my defense was a main part of it. Our whole team, we just worked hard to defend. It was our key to these top teams. We just broke down and I told them who to score and stuff like that.
While Grimm was considering playing at the college level, she decided to focus on her studies instead. She plans to specialize in business.
"I will remember my team, of course. All the girls, I have had a great time every year. My coaches made it fun, we did team activities and stuff, "said Grimm. "I will remember all of our district victories. We won every year that we played in addition to my junior year, so that was pretty cool.
NEW ARRIVAL OF THE YEAR KENNEDY CARTER, ELIZABETHTOWN
Carter didn't let his level of experience stop him from making an impact in his first season at the college level. As a result, the Elizabethtown freshman collected 23 points and four first-place votes to finish as the area's best newcomer.
Shelby Eidson of Central Hardin finished second with 15 points and one vote for first place, while Bayly Judd of LaRue County was third.
"I'm very grateful and I think it was a new position for me this year," Carter said. "I definitely adopted it and did my best to achieve it. Our coaching staff here has really helped me a lot. Pete Kremzar, JV's girls coach, prepared us as freshmen for college and prepared us for what the new change was going to be, so I was very grateful.
Carter ended his freshman season with 21 assists, a record for the team. She also added four goals.
"I feel like all of us, the whole grade one class, impacted our team in different ways. We've all contributed to the team and made a big impact in one way or another, "Carter said. "I knew my role in the team as a central midfielder is mainly to serve good balls so I was very grateful that they worked hard to finish them, otherwise it really wouldn't have worked out. It's just teamwork.
Having started her college career this way and with three more seasons in high school, Carter can't wait to see what she and the rest of her young teammates can accomplish in the near future.
"I think our goals are definitely to do better than outside the districts. We always want districts, it's very competitive and I feel like that's our number one goal, "Carter said. "I think now, since we've won it a few times, it's about trying to see if we can win regions. I think it all starts with the work ethic and the hard work we put into the regular season and then do well in the playoffs. "
COACH OF THE YEAR PAT BLACK, ELIZABETHTOWN
Bringing Elizabethtown back to another district tournament title this year has earned Black his fair share of Coach of the Year recognition from his peers. Black got 22 points and three first place votes to take the top spot, putting him ahead of Central Hardin coach Justin Maddock with 15 points. Chris Smith of North Hardin was third.
"I appreciate the feeling. I think everyone was in the same boat this year. Just a very close race between us Central and North, "said Black. "I guess I probably got the go-ahead because we ended up winning the district, but I don't know how much I deserved it or how much I didn't."
Being a younger team with just three seniors hasn't held back this year's Lady Panther squad. Under Black's leadership, Elizabethtown finished with an overall record of 16-5-1 and an 11-2 record against opponents in Region 5.
After winning the District Tournament Championship, the Lady Panthers reached the region tournament semi-final before losing 2-1 to Bardstown in a penalty shootout.
"It was a younger team, but I had a few sophomores who started the whole year before as freshman," Black said. "They were very young, but some of them had experience. I gained a few more freshmen, like Kennedy Carter, Annelise Aldridge, Noelle Garcia, and Campbell Wallace. Good talent comes from the lower ranks.
Black expects the program to continue to be in good shape over the next few seasons.
"We have a problem with the coaching staff trying to find a starting XI. We have a small, fairly deep bench, so we become competitive in our own ranks. It's a good problem to have, but it's a difficult problem for a coach to determine who is best suited for which position, "said Black. "I attribute a lot of that help to my assistant coaches, Pete Kremzar and Jon Parsons, they help me guide this whole process and figure things out, but we will definitely have even more talent coming from our eighth through. our ninth next year, so I certainly see more of those joining our varsity team.
Matt Tyson can be contacted at 270-505-1425 or [email protected]