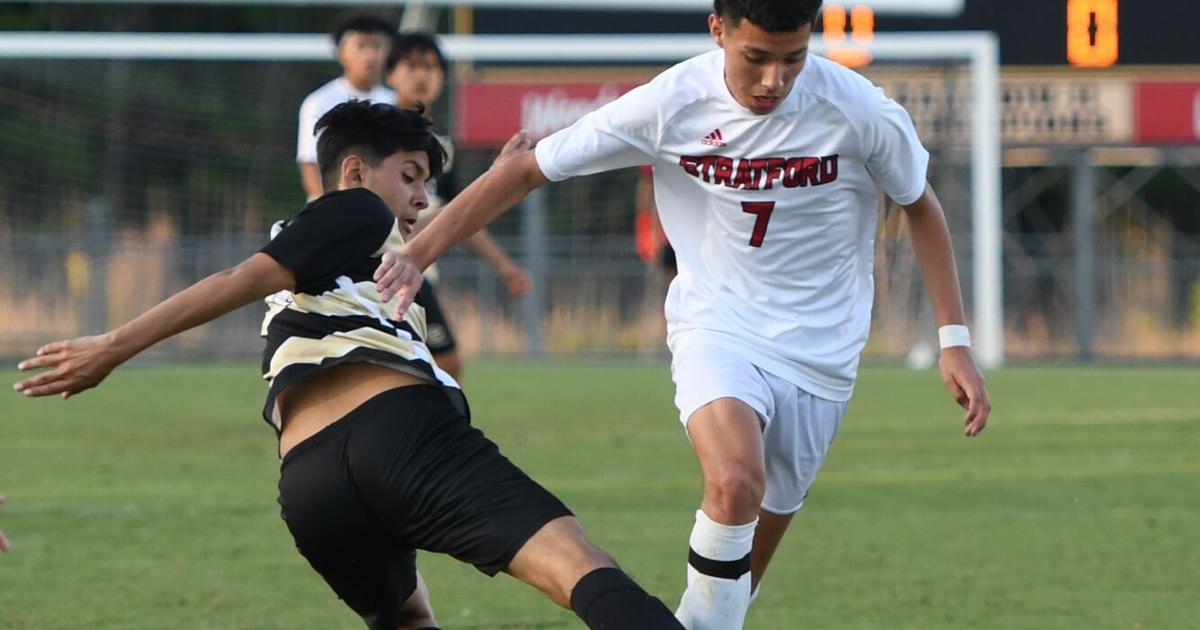 ROUNDUP: Stratford claims its share of the 7-AAAAA region's football title | Preparation sports
The Stratford High School boys' football team outscored Wando High School, 5-2, to earn a share of the 7-AAAAA region title on April 29. region by virtue of a tiebreaker. Stratford is the second seed.
Bryan Diaz found the back of the net three times for Stratford while Josue Dasilva and Terrence Seals added the other goals. The Knights (11-6) scored four second-half goals to break a 1-1 tie.
"It's still a little unreal how well this game went," said Stratford coach Jessie Stament. "It was mostly in the second half. We just started to put our chances away. It was great. Just seeing the joy on the kids' faces is a moment I will never forget.
The statement said he believed it was the Knights' first win over Wando since the mid-1990s and the first time they had won or shared a regional title in men's football.
The Stament club were due to host West Ashley on May 2 in the first round of the AAAAA class playoffs (after press time). A second-round game would take place May 4 at top-seeded Chapin High School or at home against fourth-seeded Sumter High School.
The win was the eighth in a row for Stratford.
"Getting a win like this on the road against one of the top class teams in the state gives us a boost of confidence," Stament said. "Even though we want to celebrate, our goals are not yet achieved."
The other men's soccer teams in the 7-AAAAA region in the playoffs are third-seeded Cane Bay and fourth-seeded Goose Creek. The Cobras travel to Fort Dorchester on May 2 while the Gators travel to top-seeded Ashley Ridge.
In women's soccer, second-seeded Cane Bay hosts third-seeded Fort Dorchester on May 3, while fourth-seeded Stratford will go to number-one seed Ashley Ridge. Third-seeded Berkeley travels to West Ashley.
cane bay boys soccer 5,
Berkley 2
Junior Aedan Bowers scored twice as the Cane Bay Men's Soccer Team defeated Berkeley, 5-2, in a Region 7-AAAAA game on April 27.
The Cobras then fell to Wando, 3-0, on April 28.
cane bay girls soccer 4,
Berkley 3
Kara Perkins scored twice and the Cane Bay Women's Soccer Team edged out Berkeley on April 27 in a Region 7-AAAAA game. Natalya Hahn and Mia Cook added goals for Cane Bay.
Cane Bay fell to Wando, 9-0, on April 28.
Stratford boys tennis 5,
Fort Dorchester 2
Jonathan Anderson, Brady Hurd, William Agostinelli and Reed Tetor won in singles to propel Stratford past Fort Dorchester in the first round of the Class AAAAA tennis playoffs on April 26.
Anderson and Salters won the No. 1 double for Stratford.
The Knights ended the season April 28 at top-seeded River Bluff with a 6-0 second-round loss.