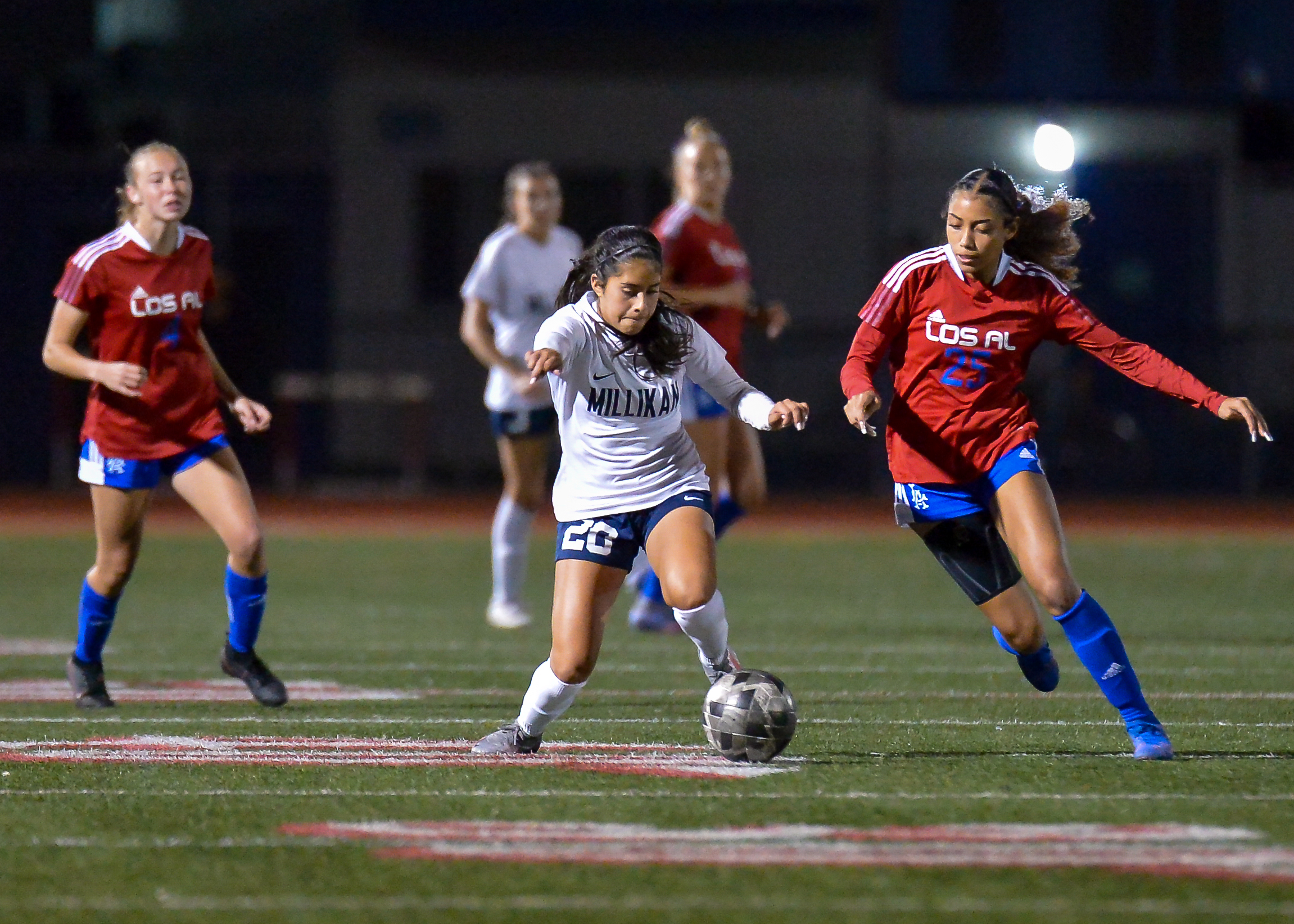 Millikan loses in Los Alamitos – The562.org
An incredible kick was all Los Alamitos needed to end Millikan's season in the second round of the CIF South Section Division 1 Women's Football Qualifiers on Wednesday.
Marisa Salazar's stunning foot strike in the 59th minute proved to be the difference in a closely contested game which the Griffins won 1-0.
"Of the chances we were able to create, we weren't able to get the pass into the correct gap for some of our playmakers," Millikan coach Tino Nunez said. "That final pass was missing and they had a great time. We let them in without walking and this girl pulled off a hell of a shot. I mean, it's one of the best goals I've seen this season.
Salazar made a deft adjustment to cut inside the winning goal, then the elder sent a rocket shot into the net on the other side.
"It was on the next level," Los Alamitos manager Pat Rossi said of Salazar's goal. "In training she will do crazy things like that, but to do it as the winning goal in a game like this is just crazy. I'm super proud of her.
Millikan showed her inherent fight throughout the game, but especially after the goal as senior captain Josie English worked hard to get the ball going. She helped create a few chances for Hannah Marshall and Sierra Sythe up front, but the Rams only managed a pair of shots on goal.
"The first year I was here was a lot of guts and we worked really hard and I think that's what has continued to grow over the years," said English, who is a college player. of four years. "(Coach Nunez) is one of the biggest parts of our success, obviously, and he's shown us how much he loves the game and he puts that into his training and this program. That's why he succeeds every year. and improves.
Millikan has now won a CIF-SS Division 1 playoff in consecutive seasons after winning three consecutive Moore League titles.
"They're one of the best teams we've had at Millikan, so you guys hate it for it to end like this," Nunez said. "I appreciate all the peaks they've given us, so I'm proud of them. I told them: 'When you leave here, you don't have your head down. You made a lot of noise this year. People were worried about you and they were definitely talking about Millikan Girls football.
Support The562.org
The first half was extremely close and well defended as both teams threw bodies behind the ball. Los Alamitos outscored Millikan 3-1 in the first half, but neither team got a shot on goal until the second half.
"One goal was going to decide it," said Rossi, who coaches some Millikan players at Beach FC. "If they had scored first, it could easily have happened to them. (Millikan) always gives us a hard time. They are emotional, gritty and they don't just touch, they can do both. Lots of respect for them and their program.
Millikan (19-4-2) managed to create some corner chances after halftime, but their best chances were easily handled by Los Alamitos goalkeeper Aurora Schuck and her backline. Schuck made two saves.
"I think we've done enough to contain them and this game continues to create something," Nunez said.
The game seemed destined for extra time when Salazar collected the ball on the left flank and created the magic moment.
The Rams got a few more half chances through Marshall's crosses in the final minutes, but Millikan couldn't find the finishing touch he needed.
After the game, Nunez praised her senior class for their dedication to the growing Millikan women's soccer program.
"Our senior class are great leaders by example," he said. "They are the first to do everything to show others what a leader is. They obviously left an imprint on the program with everything they contributed over the years… (Josie English) gave it their all and that's kind of what this program is based on, just hard work and good things will start to happen.
"I'm proud of everyone I've been able to play with," English said. "It was an honor to play for Tino for all four years."
Los Alamitos (19-4-5) will face Harvard-Westlake in the quarterfinals.
In other Moore League action, Wilson lost to Hart 2-1 in the second round of the Division 2 playoffs.
VIDEO: Millikan vs. Los Alamitos, CIF Girls' Soccer
PHOTOS: Millikan vs. Los Alamitos, CIF Girls' Soccer