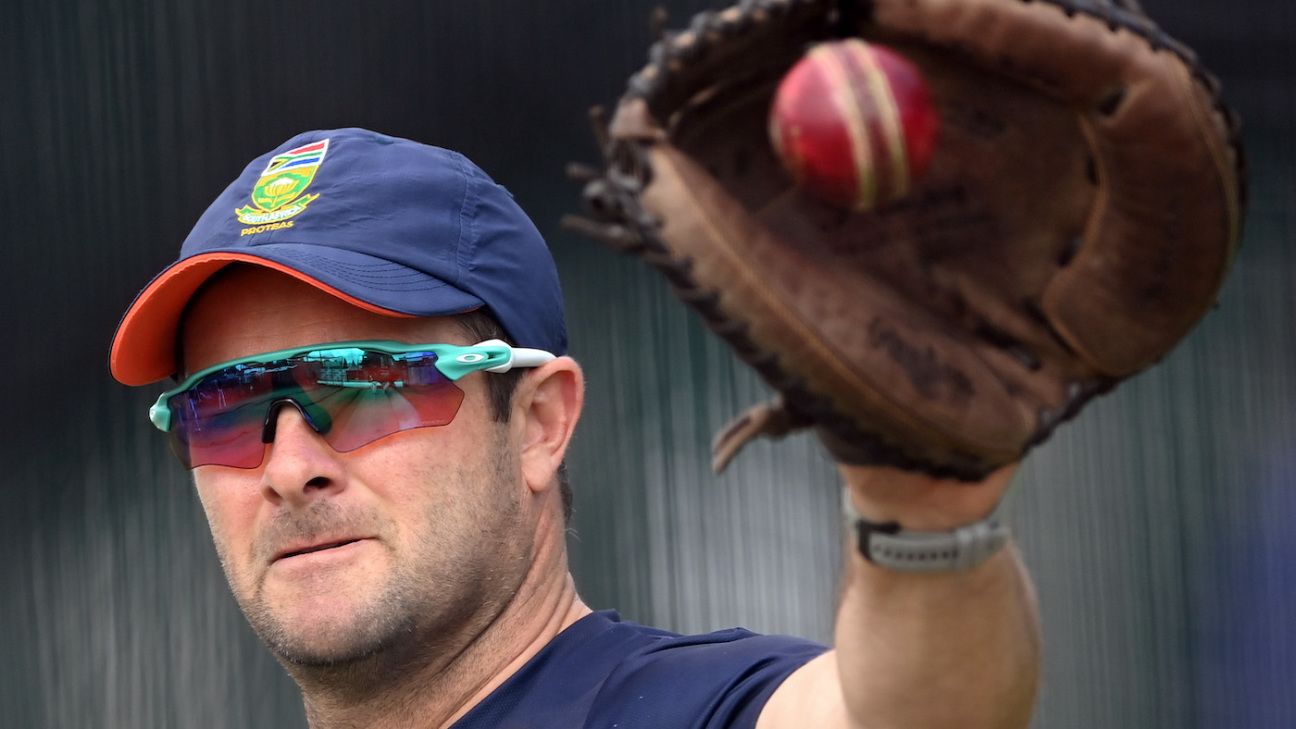 Mark Boucher's departure after a rocky tenure leaves a big hole in the coaching staff
It was always going to be messy.
From the day Mark Boucher was named head coach of the men's national team by former captain and friend Graeme Smith, his tenure has been marred by allegations of patronage. This despite his status as one of the country's most famous cricketers and, more recently, a successful manager. Now, as Boucher steps away from the job he did with varying degrees of success and into one with an IPL franchise, he remains an important figure in South African cricket.
It is not a simple story because nothing about South Africa and its institutions is simple. You've heard this before (sorry) but it's hard to avoid filtering anything in South African society through the prism of race. That's why, when analyzing Boucher the coach, we have to consider that he is white and masculine and born at a time in South Africa (1976) when those were the two most important things to be. He went to an elite school, which emphasized sports, which he was good at. He was picked for the age group level teams, worked his way up and became
South Africa's best wicketkeeper
in their top test team, led by Smith.
Throughout, Boucher was known for being a bulldog: aggressive, lively, resilient, and fiercely loyal. For his teammates, he was the glue that held them together. For fans, he was respected, but not loved like someone like AB de Villiers. When his career ended with a freak injury at Taunton, there was sympathy but not a public outpouring of sadness. When he reappeared as a coach, he seemed completely at ease. Boucher won five trophies in three seasons with the Titans and there was talk that he could take over the national team one day.
But Boucher was not really among the candidates to replace Ottis Gibson after the 2019 World Cup because no one, not even Cricket South Africa (CSA), knew what he wanted to do. At the time, the CSA was led – not particularly well – by Thabang Moroe. He chose Enoch Nkwe, who had just completed his first season in the Lions franchise, where he won two of three tournaments as well as the first Super League Mzansi. He was also the first black African to be appointed as South Africa's head coach. Nkwe took South Africa to India where they lost the Test series 3-0.
By the time Boucher took over, Smith (white and male) had been appointed director of cricket and Jacques Faul (white and male) was the interim CEO (Moroe was fired for misconduct) – this was ultimately seen as a "white takeover" of the board.
You could conclude, of course, that the naming of two white men should be less relevant than the fact that they were two of the best names in South African cricket, and you wouldn't be wrong. But with the resurgence of the Black Lives Matter (BLM) movement, Smith and Boucher were doomed to be judged not only on their pedigree but also on their whiteness.
And in Nkwe, Boucher replaced someone who was black and more qualified. Nkwe didn't have Boucher's international career, so he perfected himself with a Level 4 certificate. Boucher decided not to bother going beyond a Level 2 (granted to all former internationals), in part because CSA asked him to lecture, without pay, on the same Level 3 course he had planned to take. As a little taste of the clashes to come, it was spicy.
Boucher started as head coach in December 2019 to some outcry and relief. He acknowledged that the South African players were technically behind. He had a diverse coaching staff with him, consisting of Charl Langeveldt, Justin Ontong and later Justin Sammons. He also recruited consultants like Jacques Kallis and Paul Harris (two other veterans of the South African golden age who would be criticized for their whiteness), then Neil McKenzie and Vincent Barnes.
Collectively, this expertise has brought South Africa four out of eight wins in the Test series, two out of eight wins in the ODI series and five out of 12 wins in the T20I series. Overall, under Boucher, South Africa have won as many series in all formats as they have lost – 11 – but their tenure will not be judged on numbers or race alone.
Boucher has faced more off-field issues than most coaches, including the resurgence of BLM and the Covid-19 pandemic. The former prompted the CSA to launch the social justice and nation-building hearings that Boucher did not fare too well on, especially when he was introduced as one of the actors in the damning testimony. by Paul Adams. CSA was forced to act, calling for Boucher's dismissal as coach and opening the door to those unhappy with the way Boucher was appointed.
By the time the charges were dropped, the damage to Boucher's relationship with the council was done. This caused an avalanche of very public and highly polarized opinions about Boucher: the team supported him (test captain Dean Elgar often spoke of the unfairness of the criticized coaching staff) and seemed to be improving under him; others saw no future for someone who admitted to racially discriminatory behavior. There was no middle ground.
Does all of this sound exhausting to you? It must have been.
It must not have been easy for Boucher. And although Boucher knows his past behavior was wrong and apologized in a written affidavit, he never reported to SJN. If he would have known and apologized without the hearings having taken place, we will never know. As to whether it has changed for the experience, that can be judged by the current team which speaks of an inclusive culture that welcomes everyone. On the face of it, South Africa confronts its racial issues openly and honestly.
After all that, there was cricket. Boucher led a team that had the same problems as when it started: the stick was brittle and not receiving the support it needed.
South Africa's national teams are playing fewer top-class games now than two summers ago and the new SA20 goes one step further. The South African national team will play fewer tests in the next FTP. They may not automatically qualify for the 2023 World Cup and instead of backing their chance to get there, their own board has removed them from matches that could help them qualify, to create a window for the SA20, the tournament South Africa needs. to succeed. Essentially, Boucher works for an organization that had to sacrifice the international game in which he made his name, for a lucrative league in which he was offered a coaching role. In a convoluted way, does this all add up to his decision to leave?
The task of the new head coach is far from simple, because the need to revive a team in transition remains secondary to the imperatives of transformation. The right candidate must not just be an excellent coach, but must understand that providing quality opportunities is not just about color by the numbers. Foreign coaches, even those of color like Gibson, usually struggle with this.
Whoever enters can't be after a lot of money either. The ASC is not flush with the funds and the salary of their head coach will not correspond to the sums available in the IPL or the departmental scene. Boucher himself will earn more from his SA20 stint of a few weeks than from an entire year as national head coach.
The CSA could also knock on the doors of some former holders. One of Gary Kirsten, Russell Domingo, Graham Ford, Adi Birrell (who worked as Domingo's assistant) can be brought in to an interim position, while CSA works on the process of finding someone more permanent.
One thing is certain: this time, they will strive to get it right. The position will be advertised, the candidates will be interviewed, the t's are crossed out and the i's are dotted to avoid the chaos that has clouded Boucher's tenure. Because they can't get through another mess like this.