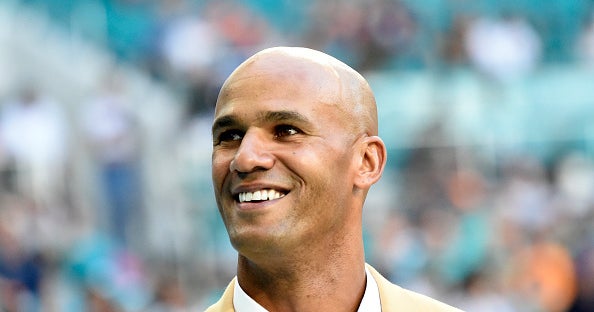 Mario Cristobal eyes Jason Taylor for coaching staff, report says
Mario Cristobal could add a legend to his Hurricanes coaching staff. According to Barry Jackson of the Miami Herald, former Miami Dolphins star and Pro Football Hall of Famer Jason Taylor is in talks to join Cristobal's team. Taylor last played in the NFL in 2011, spending most of his career in South Florida.
Taylor's role has yet to be decided, should he join the staff. However, he will have his options, according to the report.
This would be Cristobal's last major signing before his first season as head coach.
"Jason Taylor and Mario Cristobal discussed a job on UM staff, for two people briefed on the situation," Jackson wrote on Twitter. "Consultant or analyst role among the options. Possibility of this first mentioned by @CaneSport."
The former Dolphin finished his career with 775 tackles, 139.5 sacks, eight interceptions, 46 forced fumbles, 29 fumble recoveries and nine defensive touchdowns from 1997-2011. He was also named to the All-Decade Team 2000s NFL.
Not only is Cristobal set to add an NFL Hall of Famer to the staff, he's already added Michigan's former offensive coordinator. Josh Gattis in the same role and also brought Kevin Steele as the new defensive coordinator.
Cristobal has a certain attraction for coaches to work under him. After having great success in Oregon, Cristobal is expected to make the Hurricanes a contender in 2022.
"You know what that program can be and then you put Mario in charge of it, it really tells you that you get in a vehicle and you know where it's going," Steele said, via The Associated Press.
Cristobal went after Steele to lead the defense and the new defensive coordinator said heading south was very easy.
"It was very easy because I know who he is at heart," Steele said of joining Cristobal's team. "He's a winner and he does it with hard work. Mario Cristobal, if you know anything about him, he's relentless. He is a hard and smart worker and a phenomenal recruiter.
Gattis was a different case. He improved Michigan's offense in 2021 and helped the team advance to the College Football Playoffs. However, the head coach Jim Harbaugh flirted with the NFL but ultimately chose to return to Ann Arbor. But Gattis ended up being recruited by Cristobal and he left the Wolverines for the Hurricanes.
"Obviously it's been a very emotional week as far as leaving," Gattis said. "Whenever you go through changes it's always difficult because I felt like I didn't leave players behind, I felt like I left friends behind."
But once he got used to being in Miami, Gattis said the energy was exciting.
Get the fastest scores, stats, news, live videos and more. CLICK HERE to download the CBS Sports mobile app and get the latest news on your team today.
"The energy and excitement surrounding our program and our players is all about a buy-in approach," Gattis said. "Coach Cristobal regularly builds energy and sets the tone."