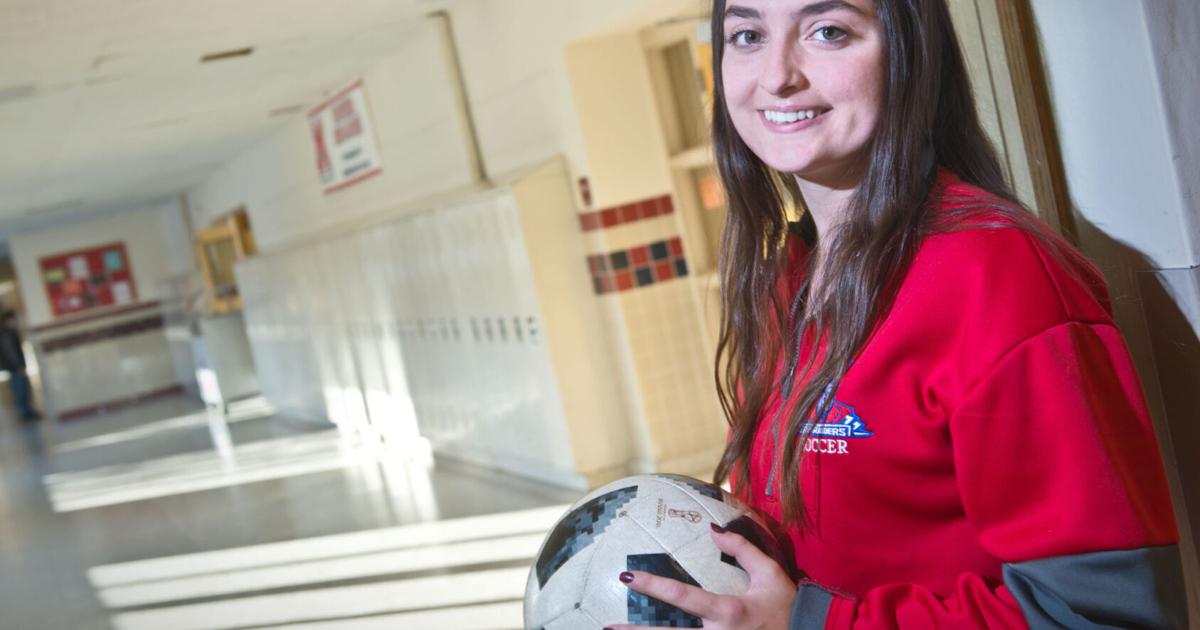 High school girls' soccer: Red Raiders lead Times NAC MVP leadership All-North Rogers to successful season | Cover all the north
MASSENA – Thanks to a united, hard-working team who stood out like Libby Rogers to lead them on the field, the Massena women's soccer team had one of its best seasons in the history of the school this fall.
The Red Raiders, who finished 17-1 overall, played in the top class of Section 10 (Class A) and were the only team in the section to make the state playoffs with a perfect record.
The squad was made up of Rogers, a four-year-old senior varsity midfielder who scored 11 goals with seven assists and controlled games from his midfield position. Rogers is the Times All-North Northern Athletic Conference MVP.
"She has a high football IQ and a deep understanding of the game and has made everyone a better place," said Red Raiders coach Ryan Hayes. "She had no problem coming back (defensively) and putting pressure on opposing midfielders and forwards. She's super competitive. She has won the ball many times. She had great vision and could see the pieces develop before they actually happened. She played a lot of beautiful balls in space.
"A lot of times our outside midfielders or attackers had to get into position quickly because you never knew when she could play the ball. It has a lot of reach. She is able to score from a distance. She scored some really nice goals, some of the best goals I've seen in high school football.
Rogers joined college as a freshman, but quickly adapted and gained approval from the older players on the team.
"I remember struggling with whether I wanted to go up or not," Rogers said. "I wanted to play with my friends. I ended up going upstairs and getting closer to the older girls. They were all really nice and helpful.
For Hayes, it was an easy decision to bring Rogers to college as a freshman.
"I knew she would be special," said Hayes. "It evolves every year. She had a great year (as a junior), but it was cut short (by COVID-19). "
Rogers has a twin brother, Ben, who served the same role as her on the men's soccer team and spends the winter as a goaltender for the Massena men's hockey team.
Growing up playing block games with him has helped her become an outstanding player.
"We always had the neighbors for games and we were always on the opposing team," said Rogers. "He would make a good fight. "
Ending her career with an unbeaten regular season, an NAC Central Division Championship and a Section 10 Class A title has been a big deal for Rogers and her teammates.
Two of the biggest steps towards that were the 2-0 and 1-0 victories over Gouverneur, a team that had caused problems for the Red Raiders in recent years.
"I've been in college for four years and I've never experienced anything like being undefeated and having such a hard-working team that also wanted to strive to be undefeated," said Rogers. "Governor has been our big rival, not really, but we haven't won against them for a long time. We were trying to adapt to beat them.
Former Governor Coach Mark Martin, who moved to the Syracuse area, played a role in Rogers' career by being part of a summer travel team he coached.
"He shaped me like a good football player," Rogers said of Martin. "Before his team, I was a striker and he put me in midfield. He taught me what to do in this position.
Rogers also credits Hayes with developing other aspects of his game, saying, "He gave me a lot of advice on staying positive and clearing my head throughout the game. It was one of my fights. as a freshman being hard on myself.
Rogers doesn't know where she'll be attending college in the fall, but she does know she won't be playing on that school's official women's soccer team.
"I see myself playing club soccer for college," Rogers said. "I would like to play as much as I can. I have been playing for a long time and have grown to love the sport. I like it a lot, but not enough to make it my whole career.
Parents: Scott and Carrie
Siblings: Brother, Ben; Sister Stéphanie
Other: Member of the National Honor Society.