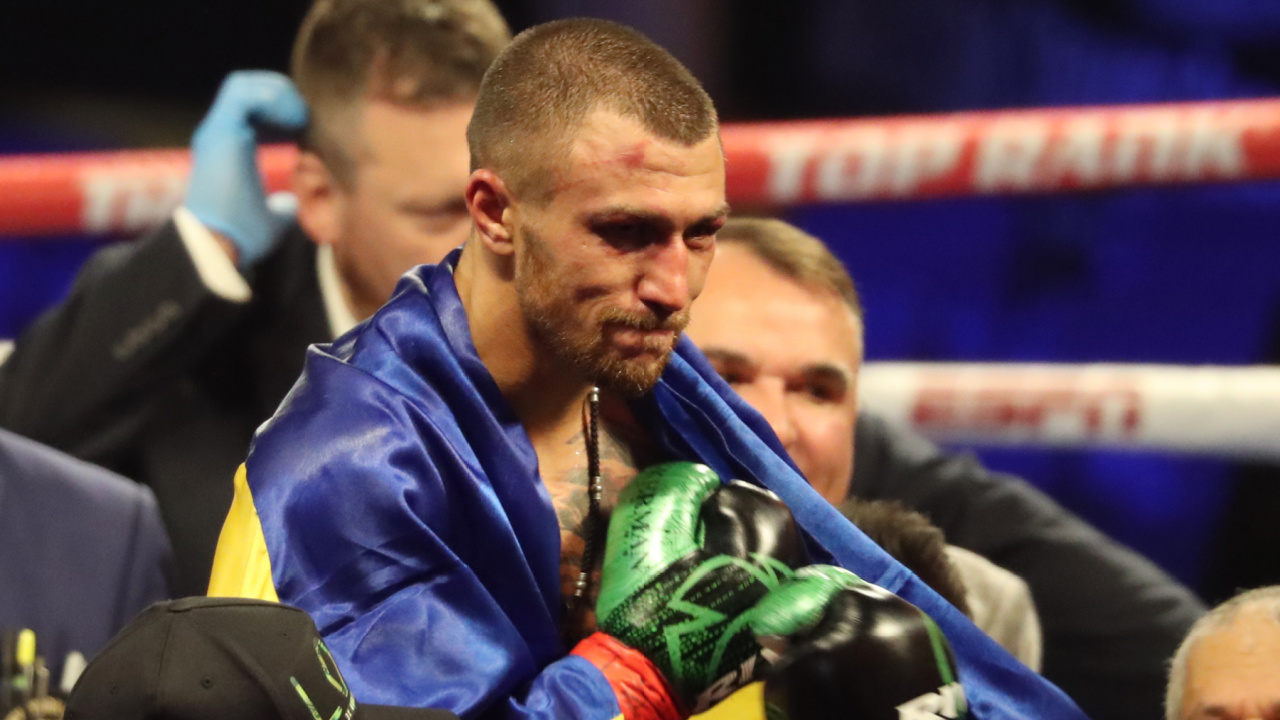 Heavyweight champions, UCL legends, tennis stars take up arms
According to US intelligence reports, Russia encountered much more resistance than it had expected during its invasion of Ukraine, while overestimating its ability to win a propaganda war in the region.
Ukrainian athletes have helped on both fronts by actively taking up arms against the Russian invaders and using their massive platforms to educate us all about their nation's desire for peace, freedom and democracy in the face of such a horrific onslaught. .
Here are some of the world famous sports personalities on the front line of battle.
Athletes fighting in Ukraine
Oleksandr Usyk
World champion in two weight classes after beating Anthony Joshua at the Tottenham Hotspur Stadium in September, the 35-year-old is unbeaten in his career with 19 wins, 13 of them by knockout.
Alongside Canelo Álvarez, he's considered the greatest pound-for-pound fighter on the planet right now, and there's no more anticipated potential superfight than Usyk vs. Tyson Fury to decide a champion. of the undisputed heavyweight world.
However, it was confirmed on Tuesday that Usyk had joined a territorial defense battalion and taken up arms against Russia.
Vasily Lomachenko
Vasyl Lomachenko joined the Belgorod-Dnestrovsky Territorial Defense Battalion in Ukraine to defend his country from Vladimir Putin's Russian invasion… pic.twitter.com/LWFDcUhFAB
Nicknamed "The Matrix" for his electrifying blend of footwork and technical precision, Lomachenko is a multi-division world champion, two-time gold medalist and one of the greatest pound-for-pound fighters in the history of the sport.
Less than three months ago, Lomachenko dazzled onlookers inside Madison Square Garden with a unanimous decision victory over Richard Commey.
INCREDIBLE

— Sky Sports Boxing (@SkySportsBoxing) January 3, 2022
The win put Lomachenko directly on the path to a mega fight with current unified lightweight champion George Kambosos Jr., and there was even talk of Loma agreeing to face Kambosos (an Aussie) in front of 55,000 at Marvel. Melbourne Stadium in June.
It would have been the fight of 2022, but Loma, who would have been in Greece when the Russian invasion began, managed to get back to his home and his family by flying to Bucharest and crossing Romania to reach the Odessa province in southwestern Ukraine.
The Klitschko brothers
Dr. Ironfist and Dr. Steelhammer. The two combined for 40 heavyweight title fight wins and dominated the division so well that the period became known as the "Klitschko era".
Vitali, five years his senior and now 50, lost just twice in 47 fights before embarking on a political career in 2006. He has been mayor of Kyiv since 2014 and has remained in the capital throughout along the seat.
GMB EXCLUSIVE:

'I have no other choice. I have to do that.'

The mayor of Kyiv @Vitaliy_Klychko recount @richardgaisford that it is "already a bloody war" and that he is ready to fight for his country. pic.twitter.com/KvoGP5f92C

— Hello Great Britain (@GMB) February 24, 2022
His younger brother Wladimir, 45, won a gold medal at the 1996 Olympics in Atlanta before embarking on a professional career that saw him lose just five times in 69 fights.
One of the biggest fights of his career came in 2013 at the Olympic Stadium in Moscow, in the presence of Vladimir Putin, against Russian challenger Alexander Povetkin, who entered with an unbeaten record of 26-0.
Wladimir was the lineal champion and best active boxer in the world, and despite Povetkin's overwhelming support (including 23 million Russian viewers, making it the most-watched event of the year), Wladimir won by unanimous decision . Two months later, Wladimir and Vitali were two of the leading figures in the Euromaidan protests in Kyiv.
Russian loser Povetkin has since voiced support for Putin's "fight against Nazism" before calling Ukrainians "parasites".
Compare that with what Wladimir said recently: "The Ukrainian people are strong. And he will remain true to himself in this terrible ordeal. A people who yearn for sovereignty and peace. A people who consider the Russian people as their brother. I don't want this war. The Ukrainian people have chosen democracy. But democracy is a fragile regime. Democracy cannot defend itself, it needs the will of the citizens, the commitment of all. Basically, there is no democracy without democrats.
According to a report by The temperatureVitali and Wladimir are on a 23-man "kill list" for Russian mercenaries in Kiev.
Yuri Vernydub
In September, Vernydub made history by guiding Sheriff Tiraspol through the Champions League group stage, becoming the first Moldovan club to go that far. But that was just the start of the magic as on September 26, Sheriff Tiraspol traveled to the Santiago Bernabéu to face Real Madrid – the most decorated club in European football history – and won 2- 1. It was perhaps the biggest UCL group stage upset of all time.
The 56-year-old coach, from the northwestern town of Zhytomyr, returned to Ukraine to fight.
Oleh Luzhnyi
Embed from Getty Images
In 2002 Luzhnyi became the first Ukrainian to win the Premier League (15 starts and three substitute appearances) while winning the FA Cup for Arsenal. He won the FA Cup again in 2003 – his last appearance for the club – while starting the game in the heart of defence.
He was capped 52 times by Ukraine, captained the team 39 times, and is now back in action in his hometown of Lviv.
"The situation is horrific," he told Sky Sports. "I want to come and coach in the UK but above all else I will stand firm and fight for my people, for my country and for democracy. We all hope this ends soon as innocent lives are being lost and families are torn.. A country invaded and destroyed is all for what?We must unite and end this criminal war.
Sergiy Stakhovsky
Embed from Getty Images
Stakhovsky reached a career-high No. 31 in singles, won four ATP Tour titles (including the 2010 Connecticut Open), and defeated Roger Federer in the second round of the 2013 Wimbledon championships, ending the Federer's race to reach the quarter-finals. in 36 consecutive Grand Slam events.
Now 36, Stakhovsky signed up for the reserves and returned to Kiev to fight. He says his wife told their children that he went to another tennis tournament.
"It makes all the difference for our armed forces that they are not alone at least in a media environment, but let's be real here, it's been eight years of war with Russia, where was all that for eight years?" said Stakhovsky. "None of us believed this could happen, and yet it happened. None of the European or world leaders are ready to help, ready to fight in Ukraine maybe for a better Europe inside future, because once Ukraine is lost, we will resist. But let's face it, Russia is a country of 140 million people that stretches from Europe to Alaska. It is going to be very difficult to resist That much.
Yaroslav Amosov
Embed from Getty Images
Amosov, 28, is the current Bellator MMA Welterweight Champion with an undefeated record of 26-0 with nine by knockout and 10 by submission. He won his world championship on June 11 against Douglas Lima and was due to defend his title against Michael Page in London in May.
However, he is now in Ukraine to defend his country.
"Probably, many will think that I ran away, was hiding or something, but that's not the case," Amosov said. "I took my family to the safe zone. Now I have come back and I will defend this country as best I can, with what I can. I love this country, ours. Russia came to us and started a war here, many people are dying – innocent people, women and children."