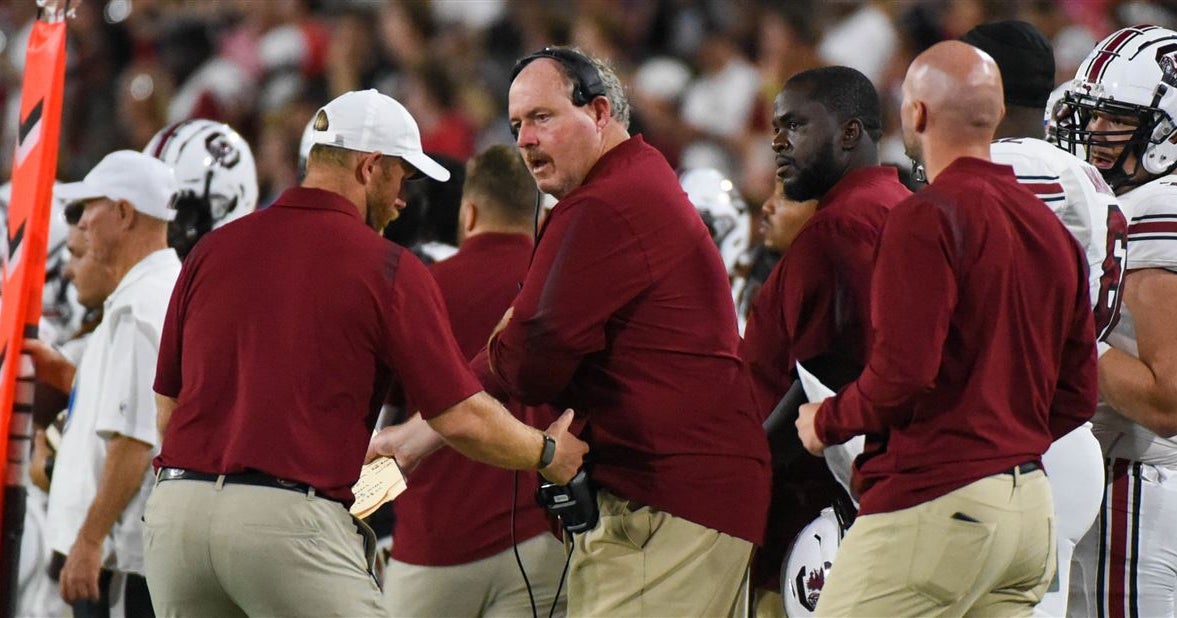 Gamecocks was without Greg Adkins on Saturday
The South Carolina soccer team was without a key member of its coaching staff on Saturday night. Offensive line coach Greg Adkins, who arrived at Williams-Brice Stadium before kick-off and competed on the Gamecock Walk, was not on the sidelines or in the booth for the game against Auburn.
The Head Coach Shane projector gave the reason for Adkins' absence at his post-game press conference.
Offensive analyst Lonnie teasley was working with the offensive line during the game.
"Greg had a little health crisis this week. He's fine, "Beamer said. "He was at the hotel today, this morning for meetings and he was there this afternoon. He was there tonight before the game. But we thought the best thing for him was not to be there on the sidelines and to be in the middle. Greg did a great job getting these guys ready this week. Give Lonnie Teasley credit. He is our offensive analyst and an offensive line coach. He stepped in and did a great job for Greg. Greg is fine, I spoke to him before the game, and he will be back tomorrow. He was cleared out tonight. It was nothing serious, but I felt the best thing for him was not to be there in the middle of it all.
This story will be updated.
South Carolina have made a veteran offensive line this season with four of the five starters for the 2020 squad, which paved the way for SEC frontman Kevin Harris.
A veteran assistant coach who began his career in 1991 at his alma mater, Marshall, the first-year Gamecocks assistant coach has also worked in Georgia, Oklahoma state and Tennessee, among others.
Adkins comes to Carolina after spending the past three seasons as an offensive line coach and recruiting coordinator at Marshall University, working under the direction of the head coach. Doc Holliday. Marshall posted a 2018-20 24-12 record in what was his second tour of duty with the Thundering Herd.
In 2020, the Thundering Herd surrendered 12 sacks in 10 games, ranking 13th nationally, while allowing just 3.5 tackles for a loss per game, the nation's fourth-best mark. Right guard Cain Madden won second-team All-America honors from the Associated Press and Walter Camp. Madden and his fellow offensive lineman Josh ball were named to the All-Conference USA First Team, while Alex Mollette was a selection of the second team.