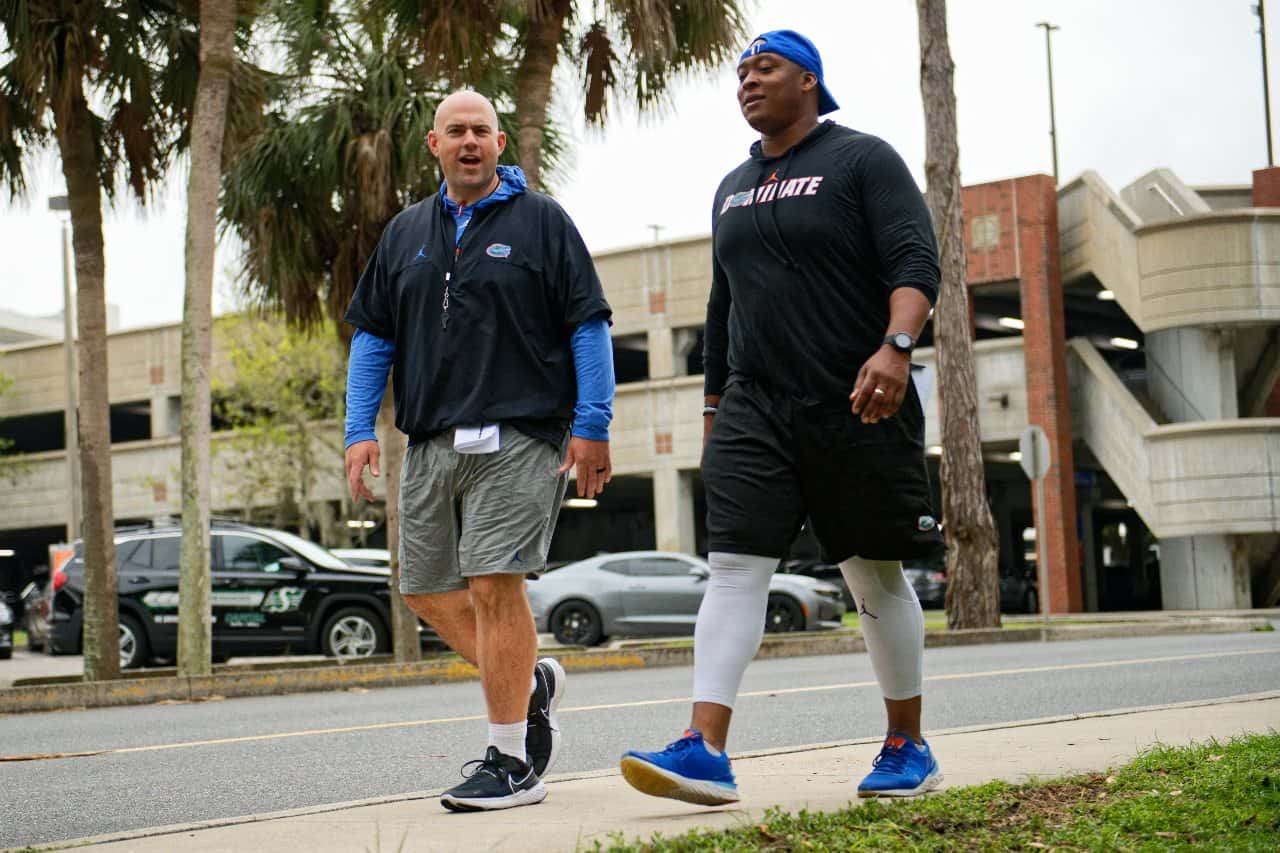 Florida Gators Offensive Line 2023 Recruiting Tip
The Florida Gators have a huge need on the offensive line and that has been a high priority for the 2023 recruiting class coaching staff.
Offensive line coaches Rob Sale and Darnell Stapleton have built up their positional space and are trying to continue to deepen recruiting.
Despite the two commitments in the class, the coaching staff is mixed with several others as they would like to add at least three more offensive line prospects this cycle.
GatorCountry gives you an overview of the top targets remaining on the Gators offensive line.
Monroe Freeling Offensive Lineman- Freeling made his official visit to Florida in June and the lineman says he wants to wait until later in the fall to decide because he wants to see how all of his finalists are doing on the court this year. Notre Dame was thought to be the best school for Freeling, but the Irish fell out and now it looks like it could happen in Florida or Miami. Freeling wants to visit Gainesville this fall for a game and this visit will be important for Florida.
Offensive Lineman Tyree Adams- Adams plans to visit Gainesville for Friday Night Lights, then plans to make his official visit to Florida on September 3rd for the Gators' home opener against Utah. Adams also plans to visit Alabama, Georgia and LSU before making a decision. Adams has had a good relationship with several Florida coaches, including Corey Raymond and Jabbar Juluke since their time at Louisiana State.
Offensive Lineman Caden Jones- Jones is a guy who just popped up on the Gators' radar because he had a great spring and campus homer. Jones plans to be in Gainesville for Friday Night Lights and to stay for a few days after the event. Texas A&M is also in the mix for Jones, but other teams are sure to jump into the mix for the lineman as he wants to take official visits this fall and make a decision once those visits are over.
Offensive Lineman Tommy Kinsler- Kinsler was contracted to Florida for just over a week and he was supposed to commit to Miami, but he refrained from doing so and now Miami is about to run out of spots on the line. The Gators will remain in the hunt for Kinsler and if they can fix a few things, the Gators could win with Miami standing in the air at this point.
Offensive Lineman Miles McVay- McVay has visited Gainesville twice in the past under Dan Mullen and plans to make his official visit to Florida in October, but he will decide by then. Alabama, Oregon, Michigan State and Texas A&M are battling to be his pick in August, but Alabama and Florida will host McVay for an official visit in October. The Gators are slated to bring him to campus in October.
Florida State offensive lineman Roderick Kearney-Kearney committed to Florida State while on campus in Gainesville and it rubbed some people the wrong way, but new Gators quarterback commits Marcus Stokes and running back Treyaun Webb is recruiting Kearney hard, so he's someone to watch in the future. If Kearney and the Gators coaching staff can get over what happened in June, then the Gators should stay in the mix here.
Baylor offensive line hires Sean Thompkins- The lineman went to Gainesville in June, but the Gators weren't recruiting him hard at the time and the lineman signed to Baylor soon after. Thompkins is a guy who rises later on most recruiting boards, so I expect the Gators to continue to watch Thompkins and recruit him in hopes of knocking him down.