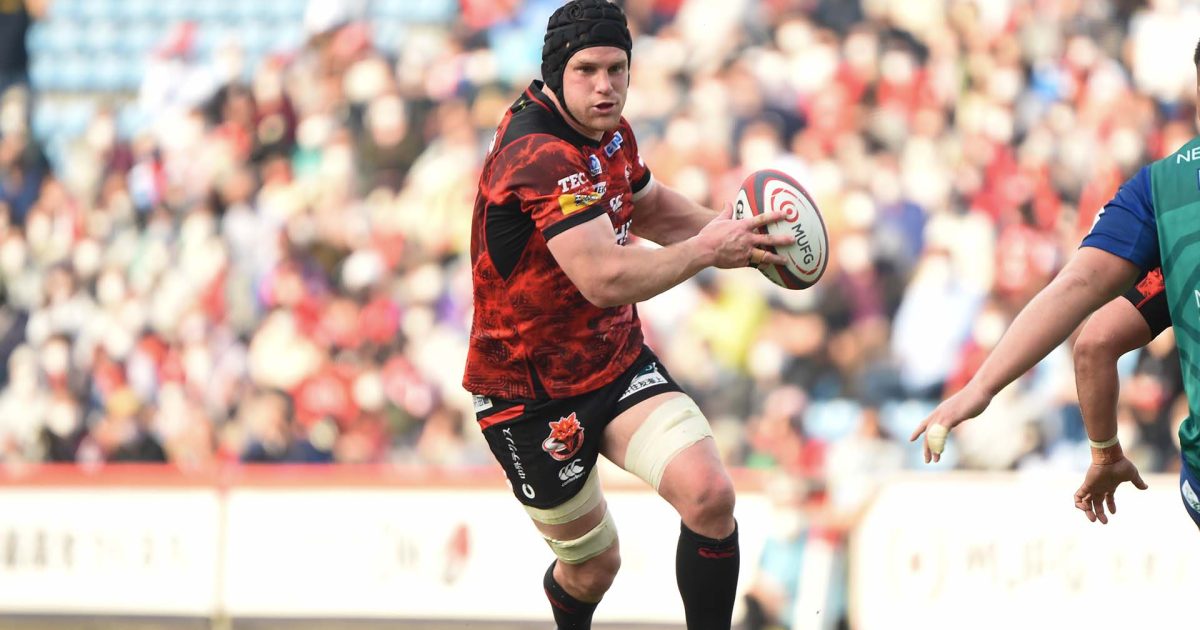 Ex-All Blacks star Matt Todd joins Canterbury coaching staff for NPC
Former All Blacks flanker Matt Todd has been revealed as one of four newly appointed Canterbury managers for this year's NPC.
The Canterbury Rugby Football Union announced on Tuesday that Todd will join the province's revamped coaching staff for the NPC's 2022 campaign alongside head coach Marty Bourke and assistants Alex Robertson and Craig Dunlea.
Todd, a 25 Test international who played for the All Blacks between 2013 and 2019, is part of Canterbury's coaching setup as he moves on from playing in Japan, where he plies his trade for Toshiba Brave Lupus.
Aotearoa Rugby Pod | Episode 17
The 34-year-old played for Toshiba just a fortnight ago when Brave Lupus were knocked out of the Japan Rugby League One semi-finals by Tokyo Suntory Sungoliath.
Todd has since returned to New Zealand as he prepares to help coach the province he represented 72 times between 2009 and 2017.
Joining Todd in the Canterbury coaching staff is Bourke, who was promoted to head coach after serving as an assistant under co-coaches Reuben Thorne and Mark Brown last year.
"I am honored to have the opportunity to lead a great group of people in this year's NPC campaign," Bourke said in a statement.
"Our players and support staff are all passionate about Canterbury rugby and its success. We are hugely excited to put our mark on and add to the 143-year-old legacy of Canterbury rugby.
"Working with Craig, Alex and Matt is something I look forward to. They have all proven in their respective coaching journeys great character, a growth mindset and a strong work ethic. invaluable for our environment this year.
Currently in charge of the Major League Rugby New York franchise, Bourke will return to Christchurch once his United States commitments are completed.
It is in the Garden City that he will be joined by Robertson, who has worked his way from the grassroots in Canterbury's coaching scene, having taken charge of clubs at grassroots level through to representative teams.
These teams include Canterbury Country Colts, Canterbury U19s, Canterbury B and most recently the Crusaders U20 team.
"I am extremely proud of the opportunity to be able to coach Canterbury," Robertson, who will take charge at full-back, said in a statement.
"Time spent coaching on the courses has allowed me to contribute to the development of several players who are part of the current squad, and it will be great to coach them again and help them continue their development with the rest of the team. the team.
"My coaching journey has shown me what it means to play for Canterbury and what wearing the badge means to players, families and the community.
"Being able to contribute at a higher level is a proud moment for me and my family and I look forward to adding to the badge's history."
Robertson will be joined in his assistant role by Dunlea, who is expected to take on more responsibility as forwards coach after working as a set pieces coach last year.
"I'm really excited to have the opportunity to be Canterbury's assistant manager," Dunlea said.
"Being involved with the Scrum team over the past year has given me real insight into the expectations and responsibilities that this role entails, along with players, supporters and the region."
"I'm really looking forward to engaging with Marty, Alex and Matt, and reconnecting with the players."
Bourke, Robertson, Dunlea and Todd take charge of Canterbury a year after being knocked out of the NPC in the Premiership semi-finals by eventual champions Waikato.
They will be looking to move up two spots this season, which kicks off against Manawatu when the competition opens at the Central Energy Trust Arena in Palmerston North on August 5.
comments
Sign up for free and let us know what you really think!