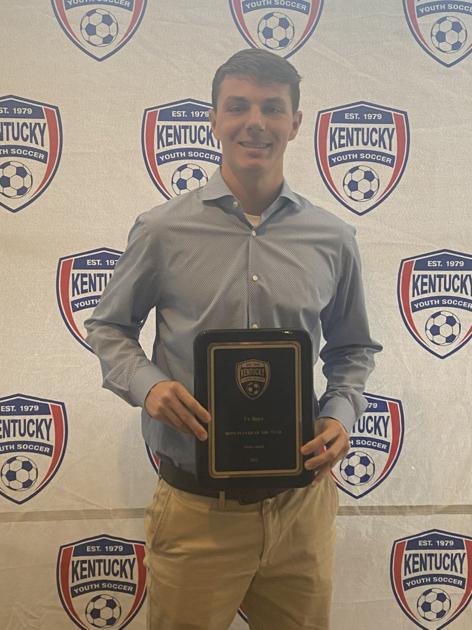 E'town grad Ty Been named Kentucky Youth Football Player of the Year | High school sports
Ty Been's football career at youth level may be coming to an end, but the 2021 Elizabethtown High School graduate and current Bellarmine University center-back have recently been recognized for his competitive work. clubs last season.
Been was recognized as the Kentucky Youth Soccer Boys' Player of the Year on August 7 at the Kentucky Youth Soccer Year-End Luncheon in Lexington. Been, who played club football in Louisville as a member of Javanon FC, said it was an honor to receive the award, but it was also something he hadn't initially anticipated.
"I have been truly blessed. There are so many good players, in my team in particular, who go to great colleges, "Been said. "I was just a little surprised but at the same time humiliated to be chosen over a lot of my teammates and against whom I have played that I have known for a long time."
He was said to be this year's winner on July 15th.
Although his selection took him by surprise, Been added that he was grateful to be viewed in this way by those who voted for him.
"The people I play with are really good. The coaches are some of the best coaches in Kentucky, "he said. "For them to think that I'm so good as a player feels really good because of course I respect them a lot. I respect their opinions and what they think.
Been started playing football in the area at a young age, starting with the Elizabethtown Youth Football Association and then for the EYSA Atletico Flames. At nine, Been transferred to Javanon and has been with the club ever since.
During the high school season, Been stayed local and performed for Elizabethtown.
His Javanon 03 team recently won the state championship and qualified for the regional in St. Louis. Been and his teammates survived the group game and beat the Cincinnati Cup in the last four to advance to the regional final, where they fell to Indy Fire.
He credited the effort he put in this year and in previous seasons to Javanon for helping him win this year's award.
"During the summers, I worked a lot for my team. When we were in the offseason, we were still playing football, not doing anything else. We were thinking about next year and as the season went on we got a lot of chemistry, "he said. "We also had a lot of injuries, but at the end of the season we were playing our best. "
While he won't be able to play the club's entire season with his freshman year at Bellarmine, Been has said he may be able to return to Javanon in the spring to play in the State Cup.
He thanked his club coach for helping him prepare for what he can expect to see at the NCAA Division I level this fall. Bellarmine, who plays in the Atlantic Sun Conference, officially opens his season Aug. 26 against Evansville University after a pair of exhibition games against Northern Kentucky University and University of Dayton this week.
"My club coach Matt Wilkerson trains at (Hanover College), which is a D-3 school not far from here," he said. "He tells us a lot about what college is and tries to help us prepare for that level. This level is obviously much faster and the quality is better in college, but he does what he can to prepare us the best he can, so it helps to know what to expect.
Been was grateful to Wilkerson, his other coaches and his family for helping him get to this point.
Matt Tyson can be contacted at 270-505-1425 or [email protected]