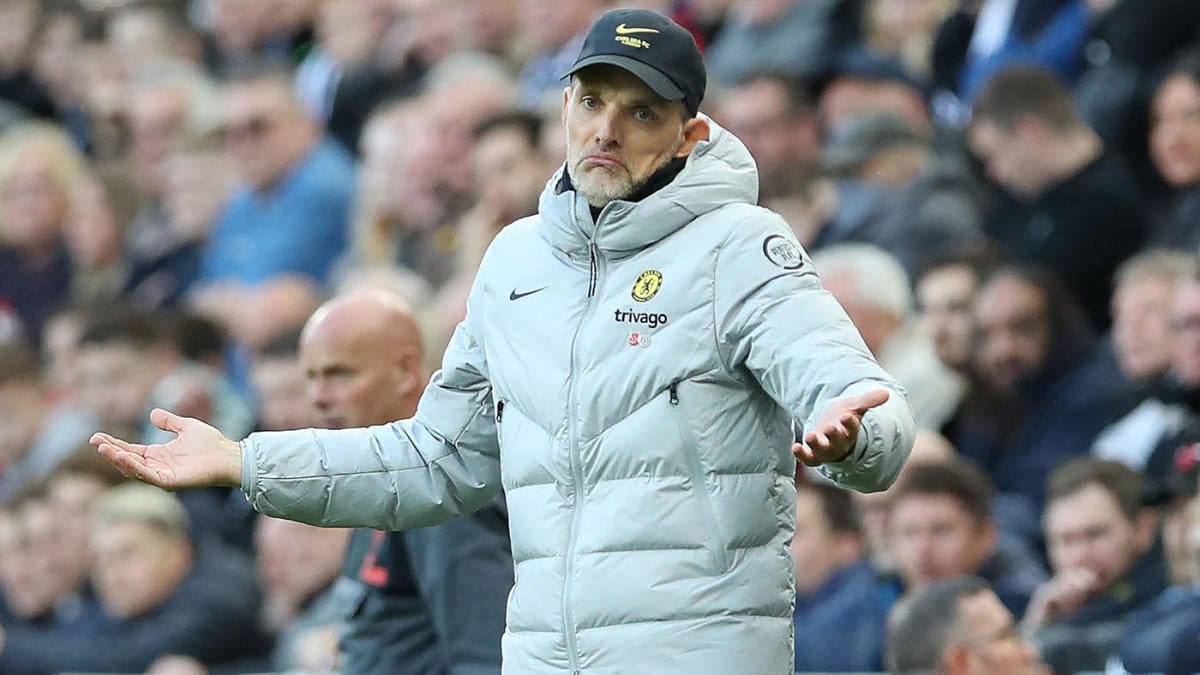 Chelsea's Thomas Tuchel offers to drive squad for game in France as club face fallout from sanctions
LONDON – Thomas Tuchel is ready to do what it takes to help Chelsea through a turbulent time in their history… even if that means getting their players to Lille six at a time.
Sanctions imposed on Roman Abramovich by the UK have thrown Chelsea into chaos and they can only play due to a licensing deal which is being discussed with the UK government. In addition to blocking the sale of the club for the time being, the license applies numerous cost controls to European champions, who are unable to sign new players or contracts, sell additional tickets for matches or to spend over $26,300 on travel to any away game.
Want even more coverage of the global game? Listen below and follow ¡Qué Golazo! A daily CBS football podcast where we take you beyond the field and around the world for commentary, previews, recaps and more.
It may still prove to be a headache for Chelsea in the Champions League and even some of the most distant Premier League fixtures, with the average cost of an away trip estimated to be at least 50% more raised. Wednesday's trip to Lille in the Round of 16 (which you can watch live on Paramount+) will not be affected as travel arrangements had already been made. But should any problems arise in the 11th hour, Tuchel is ready to do whatever it takes to get his club into the game.
"My latest information is that we are getting a plane," he said after his side's 1-0 win over Newcastle on Sunday. "So we can fly in and fly back. Otherwise, we'll go by train. Otherwise, we'll go by bus. Otherwise, I'll drive a seven-seater. Honestly, I'll do You can mark my words, I'll do it to get there .
"If you asked me 20 years ago, 30 years ago, if I would join a Champions League game on the sidelines and what I was ready to do, I would say, 'OK, where do I need to be? and when? "Why should that change?
"I will be there and we will be there. Of course, at the organizational level, there are negotiations and discussions going on, but that does not influence me. That's what I mean, we have Brilliant guys who are organizing the trip and have us, in every department, such committed people that right now things seem pretty normal."
Those committed included Tuchel, who said there was 'no doubt' he would stay until the end of the season. Such a statement will be good news for interested parties as maneuvers to secure the club continue. A consortium led by Los Angeles Dodgers owner Todd Boehly and Swiss businessman Hansjörg Wyss is among the main contenders while British property developer Nick Candy has publicly declared his interest.
"There is no doubt that I will stay until the end of the season," said Tuchel. "Absolutely. We just have to wait and we still have to go day by day because everything can change.
"As you know the situation is clear, the club is for sale, and hopefully that will sort things out and give us some perspective. But this is pure speculation and I have no more d information than you already have.
"That's what I meant by day in and day out, which is a good way to live life anyway, and now we're forced to do it because there are circumstances that we can't influence, and at some point it's not so pleasant because we have no strings to pull and no action to take to help."
The German has acknowledged that so far his work has not been unduly affected by the uncertainty surrounding Chelsea, who went up for sale last week before Abramovich was sanctioned over his links with Russian President Vladimir Putin. Sunday's meeting with Newcastle United was the first home game the club had played since with Havertz scoring in the 88th minute to power the Blues to their eighth win in their last nine games.
Outside, visiting supporters waved Saudi flags the day after the country's government announced that 81 people had been executed. Asked about his views on these events, Newcastle manager Eddie Howe said: "I'm just going to take questions about the game and about the football. I'm still bitterly disappointed with the defeat. It's just that I stick to football."