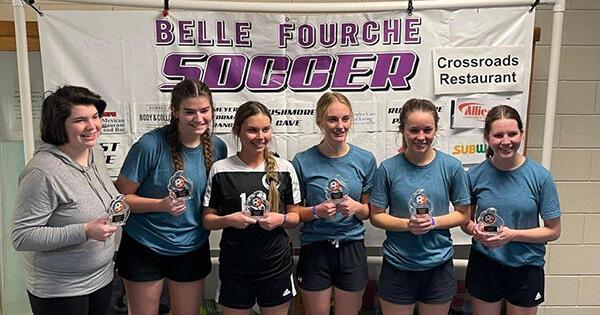 BF Soccer Association organizes an indoor football tournament | Local News
BELLE FOURCHE — The 11th annual Center of the Nation Indoor Blast was held February 11-13 in Belle Fourche.
Teams came from all over the region to participate in the soccer tournament held at South Park Elementary School and the Belle Fourche Recreation Centre.
Attendance was higher than 2021 with more than 50 teams competing in age brackets ranging from U8, which made its return to the tournament for the first time in two years after being dropped due to COVID limitations, to the still popular adult slice.
The Belle Fourche middle school and high school teams performed well in the tournament, winning three of their divisions and taking second place out of two.
Highlights for Belle Fourche sides included a thriller in the U14 Women's Division where coach Lars Dunavant's semi-final match ended in a tie with Newcastler's Pink Chaos resulting in a PK shootout to determine who would challenge for the championship. Belle Fourche goalkeeper Birk Kraft was perfect on the shootout, blocking all three shot attempts that were sent to her.
Dunavant's team qualified for the final after Kailynn Lang scored the winning goal.
The championship match would see Belle Fourche in a rematch of Friday night's game against Sturgis Venom where Belle lost 10-1.
Four Belle players scored in the match for first place with goals from Mikka Dunavant, Audrey Dingman, Kaylinn Lang and Addilyn Vansickle, but that wouldn't be enough as Sturgis beat Belle Fourche 8-4.
First and second place results for each age group follow.
U-8 Coed: 1. Spearfish Maroon and 2. Spearfish White
U-10 Boys: 1. Black Hills Rapids 13 Burgundy (Rapid City) and 2. Sturgis Sjomeling
U-10 Girls: 1. Lady Dynamite (Newcastle) and 2. Spearfish United Maroon
U-12 Boys: 1. WyoDak and 2. Black Hills Rapids 10 (Rapid City)
U-12 Coed: 1. Sturgis White and 2. Sturgis Black
U-14 Boys: 1. Black Hills Rapids 08 Burgundy (Rapid City) and 2. Red Bulls (Belle Fourche)
Girls U-14: 1. Sturgis Venom and 2. Broncs U-14 (Belle Fourche)
U-16 Boys: 1. Black Hills Rapids Bourgogne2 (Rapid City) and 2. Black Hills Rapids Bourgogne1 (Rapid City)
Girls U-16: 1. Lady Broncs (Belle Fourche) and 2. Sturgis Wildfire
U-19 Boys: 1. Furious Five (Belle Fourche) and 2. SFC 05 (Sturgis)
Girls U-19: 1. Napoleon Dynamite (Belle Fourche) and 2. Sturgis Shock
Adult: 1. Twins & Their Minions (Rapid City) and 2. Diversified (Rapid City)
To read all of today's stories, click here or call 642-2761 to subscribe to our e-edition or home delivery.