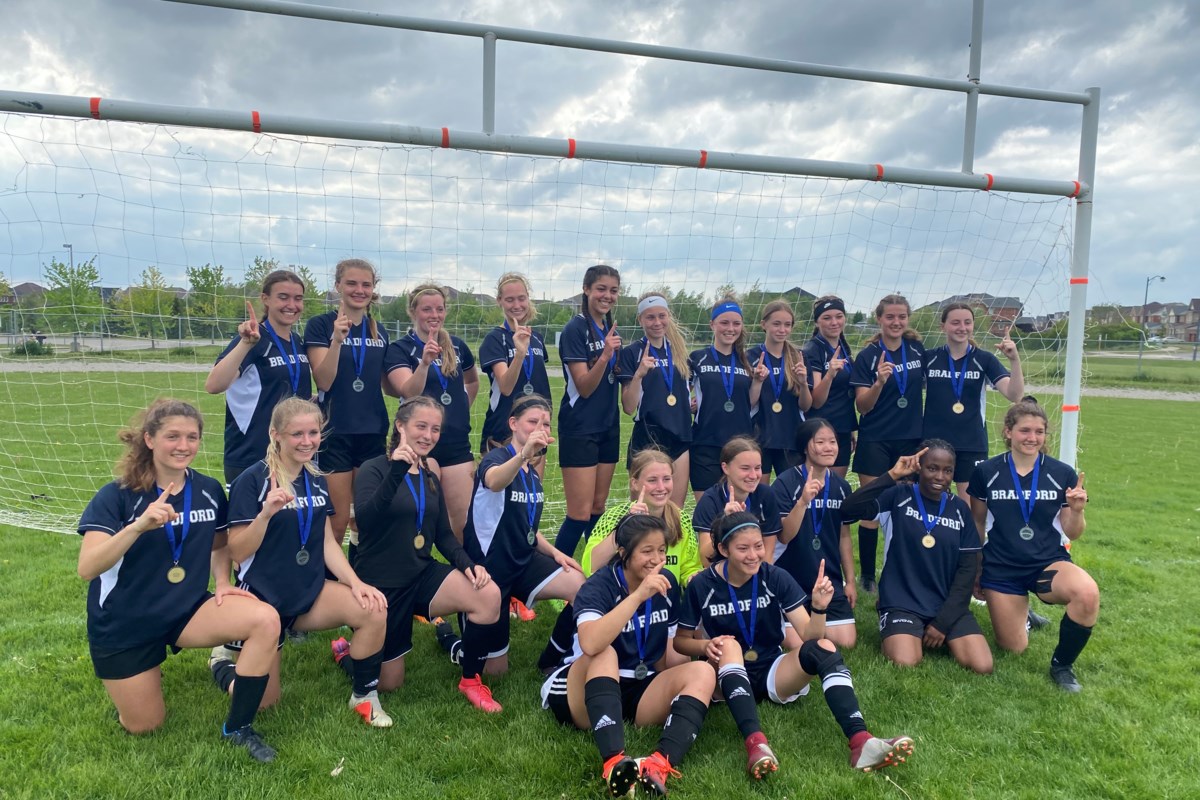 BDHS Women's Soccer Team Wins GBSSA Championship Title (15 photos)
The Bradford District High School (BDHS) women's varsity soccer team will travel to OFSAA (Ontario Federation of School Athletic Associations) next week after winning the GBSSA (Georgian Bay Secondary Association) championship game on Thursday against St. Peter's Catholic School in Barrie.
The Bucs beat the Panthers 4-1 at home after beating Collingwood CI 9-1 on Tuesday.
"It was a team from the start that we all say was magic," said Bradford team head coach Erin Carson. "The talent is amazing and we knew this team could go far, and look what they did."
The girls were undefeated all season and set a SCAA (Simcoe County Athletic Association) record, scoring 59 goals in nine games, with just four conceded.
Teagan Pare scored two goals yesterday and Alexis Delahunt scored the other two goals, including one from the penalty spot.
"It was a relief, I was hoping I would score, but you never know," she said.
The team's regular goaltender was injured, so top scorer and forward, Kayla Gunn, volunteered to play in net, even though she had never played in that position before.
"Talk about leadership and willingness to do anything to help the team!" said assistant coach Brent Dyck.
"It's come a long way because in 9th grade we lost the semis and then COVID hit and we came back," Gunn said of the team's win.
Tolu Oladunjoye says Thursday's win was "incredible" and is excited to go to the OFSAA Championship next week in London. They find out on Monday who they will face.
Emily Hill was very excited about the win and is looking forward to playing in the OFSAA Championships.
"I think it will be a struggle, but it will be a lot of fun," she said.
"I just want to say I'm so proud of these girls! They are a once in a generation team and myself and Ms. Carson are honored to be their coaches," Dyck said.
St. Peter's Panthers co-captains Julia Scott and Seema Sakran were disappointed with their team's loss but proud of how hard they worked all season. They were the only 9th graders on the team when they started high school three years ago. Thursday was bittersweet for them, as the 12th graders played their last game with the Panthers.
"We fought," Scott said. "We work together as a team, go down together as a team."
"There was a lot of potential in this team, we all worked very hard and fought until the end," Sakran said. "(There were) a lot of memories made."
Sakran will continue to play soccer in his post-secondary career, while Scott will take up volleyball.
Laura Gulley, one of St. Peter's coaches, was hoping for a different outcome for Thursday's game, but she was happy with her team's performance this season.
"The season is short and sweet, it didn't end the way we wanted obviously, but it was a very good and solid team and we are not at all disappointed with our efforts today," he said. she declared. "We have fantastic girls in our team, they are very competent, very talented… we had a successful season."
She wished the Bucs luck at OFSAA.
"We will regroup and come back even stronger next year," she said.