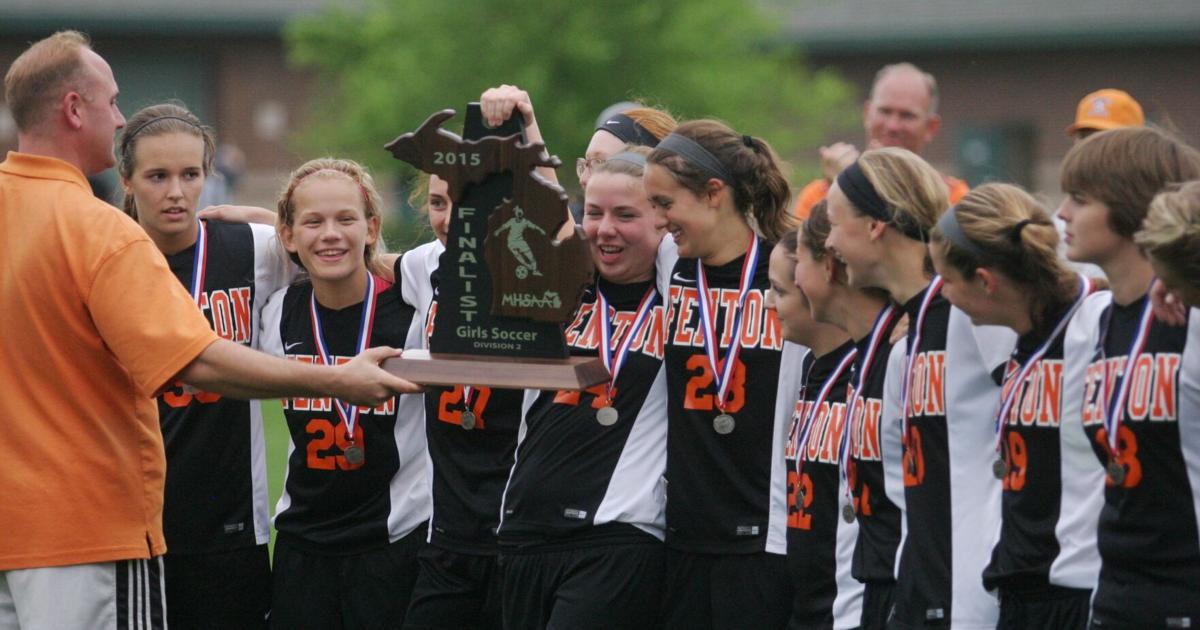 'Anti-coach' Sullivan resigns from Fenton football positions | Sports coverage for Fenton, Linden, Holly and Lake
Since 1999, Matt Sullivan has been the face of Fenton's college football programs.
While coaching Fenton's two varsity programs, he won 16 combined Flint Metro League championships, 19 district titles and five regionals. He advanced a girls team to a D2 state championship game.
But his greatest legacy with the programs has nothing to do with wins and championships. His greatest legacy is probably how he approached coaching with the program, which Sullivan, 50, called "anti-coaching at its best."
Sullivan's time with college football programs came to an end recently when he announced his retirement from both teams days after the women's season ended.
"There was really nothing. I just get old and tired," Sullivan said. "There's nothing negative. It felt like the right time. … It's something I've been thinking about for a few seasons now.
"Obviously it's the kids and my coaches that I'll miss the most. I'm going to miss every big Fenton-Linden game and go against (Linden college football coach) Kevin Fiebernitz. The upsets and long playoffs were so special, but nothing compares to the relationships I was able to form with the kids.
The news even shocked some members of his family, including his daughter and ex-Fenton player Brennan Sullivan.
"I knew he was quitting, basically the moment it was happening," Sullivan said. "(Being coached by my dad) was an experience that I was grateful for, and not many people have that experience – going to training, being coached by your dad, leaving training and coming back to home. We're so close and that experience brought us together because we loved the game. … (He created) the idea that if you care more about the relationships between your teammates and love, it's is so much more valuable any wins or stats or awards or anything like that.
Matt Sullivan's resignation quickly made waves among his former players across the country.
"He's been my coach since I was super young," Tori (Bailey) Fickey said. "He is much more than a coach. He is family. He was a mentor and a teacher for us. But above all, I loved the time spent with him on the football field.
"I knew I was going to grow up to be like Sully. I fought him for so long and now I teach and train and fall in his footsteps. I tease him all the time. I didn't want to teach or train, but that's what I do.
"He's the most influential non-family member I had in my formative years would be the best way to describe him," said former player and 2014 Fenton graduate Michael Conroy. I've been in constant contact with since Fenton High School. You don't go more than a month without a chat.
"Anything considered conventional would be the opposite (of Sullivan's coaching style). … He's certainly not afraid to coach, but he's most proud when he lets the kids put him on autopilot and lets them do their thing. That's the kind of guy he is.
So many players have graduated but never really left the program, coaching in future seasons or just showing up at games every once in a while. Jimmy Adams (2003 graduate) returned to assistant coaching.
"All those years with him have been an eye opener for me. It's not always about football you teach kids," Adams said. "It's about getting them to be a family and accept themselves get the parents involved and get them to believe that the team will be successful no matter the record of wins and losses because the kids will want to be here and will want to play for you He gave me that. … He wanted it to be fun. You can teach them football, but you don't want to learn if you're not having fun. He wanted them to enjoy the fun times and have those times together.
Sullivan's men's teams have won nine Metropolitan and District League titles and two regional championships. Its women's teams have won seven Metro titles, nine district crowns and three regional titles. The most remembered season is when the 2015 women's team qualified for the D2 state championship game, losing to two-time defending champions Richland Gull Lake 1-0 in a shootout. . But ask Sullivan how many wins he has and he has no idea. He didn't track those types of stats because his coaching style was all about relationships and two words: "love" for women and "brotherhood" for men.
However, this has not always been the case. Sullivan said he started with the traditional workout style. The transition began in the mid-2000s.
"We were coming off of a few bad seasons and that had an impact on how the girls treated each other," Sullivan said. "I remember Pam Rynearson and Lauren Keyandwy telling me during their senior years that they didn't care if we won a game this year. We were going to have fun and not fight. I thought it was great and I realized that's where the program needs to go.
His theory was also to get kids playing as much as possible, getting new kids into the contest more like you would expect in a hockey game than a football team. The result was that when everyone was playing, they worked hard and the Tigers would tire more talented teams. The new style began to create more wins and titles, including the 2015 State Runner-Up Women's Team. -same. The "anti-coaching era" had begun.
"During one of our big games, we were rolling around and laughing," Brennan Sullivan said. "And then we laughed at all the faces of the other girls (on the other team) because they were all so serious. … We ended up winning and almost won the state championship.
Through fun, however, he got his players to play hard.
"He was good at making people want to be there, big and small," Fickey said. "He created this culture that no matter where you came from or what your resume was, you're only as strong as your weakest link."
"You felt like you were playing for something bigger than wins and losses," Conroy said. "He just wanted you to have fun with the people around you and you played harder (because of that). We've never had the skill or talent of the best teams in the state, but our hearts, morale, and culture can beat skill.
"When we lost (in the state tournament to end the season) we were never mad at the results because we played badly or the team didn't do the job, you were upset because the season was over. Because training and team cohesion were over. Our time with everyone was over.
"He bonded over 20 years with all these kids and everyone keeps in touch with him," Adams said. "We all think our time with the team has been the best part of our football experience."